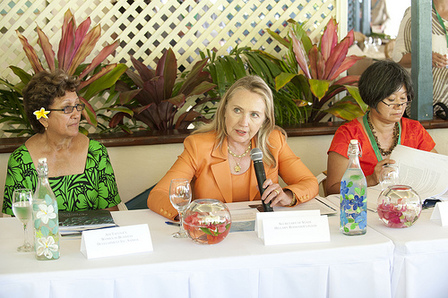 <
>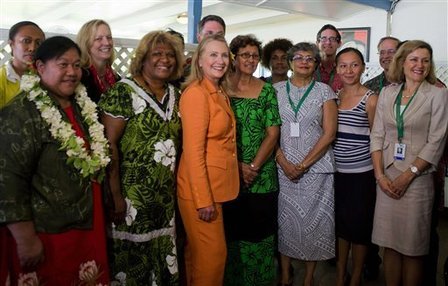 <
>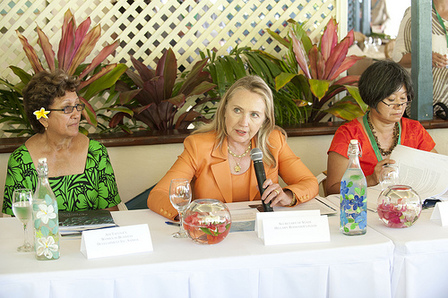 <
>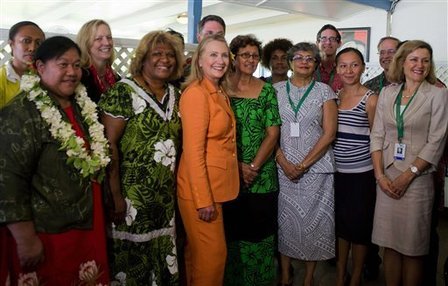 <
>
Pacific Leadership Forum 2012
US Secretary of State Hillary Clinton joined Pacific leaders, including Women in Business Development Inc executive director Adimaimalaga Tafuna'i, in a call for equal treatment of men and women in all parts of social, economic and political life.
Clinton, Tafuna'i and other leaders attending the 16-member Pacific Islands Forum signed a joint statement in the Cook Islands Saturday, noting that overall progress toward gender equality has been slow in the Pacific region. They pledged to address issues including violence against women, limited economic opportunities and the representation of women in Pacific parliaments, which is among the lowest in the world.
On Friday, Clinton announced $32 million in new U.S. programs for the Pacific region on sustainable development, climate change and marine protection.
Tafuna'i, who also spoke at the Gender Equality meeting, added that Women in Business were empowering women to create income where they live, strengthening families and caring for mother earth through organic gardening.
"To create this environment of empowerment takes a long-term financial and human investment."
Tafuna'i also said that sustainable development happens when the learning is based on cultural values and tailored so that they are in tune with the different ways that people learn.
"This is difficult in the Pacific because we have so many different cultures, but nothing is impossible when we can share our resources and hopefully in the future, be comfortable about sharing our markets. The Pacific working together will be a beautiful place to be."
At the Pacific Leaders Forum, the Governments of Australia, New Zealand, and the United States launched the Rarotonga Partnership for the Advancement of Pacific Island Women– a collaborative initiative to build capacity, support emerging women leaders, and establish networks for sustainable leadership development in the region.
Representatives of the three governments expressed their commitment to support the East-West Center's initiative to coordinate with regional academic institutions and private sector partners across the Pacific region to strengthen these institutions' leadership training and networking capabilities.