More green leaves needed in Samoan diet
Above: Farmers, teachers and health professionals at an Australia Centre for International Agricultural Research workshop on Samoa's healthiest leafy green vegetables.
How do you get Samoans eating more of the nation's healthiest leafy green vegetables?
That was the focus of a workshop, which was funded by Australian Centre for International Agriculture Research (ACIAR), co-ordinated by Women in Business Development with support from Ministry of Health, last week.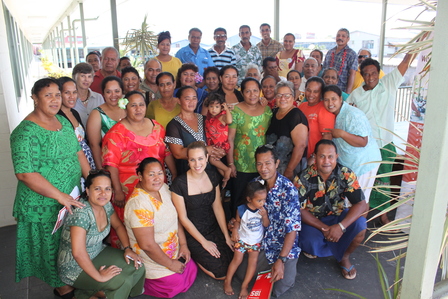 About 60 farmers, teachers and health professionals from all over Upolu and Savaii gathered in Apia to hear research findings, as well as presentations on propagation methods and composting. As well as receiving a lot of information, farmers also went home with cuttings and planting material to get them started.
"A fact that seemed to show the nutritional difference between leafy vegetables was that one laupele leaf was equal to 17 lettuce leaves," says Women in Business Development executive director Adimaimalaga Tafuna'i.
"These types of information can help farmers decide what to grow and also gives teachers and health professionals options when it comes to nutritional advice."
She says the organisation has been working with ACIAR's independent consultant Mary Taylor to look at what healthy leaf vegetables are popular in Samoa and how to raise awareness about their health benefits.
Taylor's findings were presented by Ministry of Health nutritionist Christine Quested.
Aside from laupele, which topped the nutrition stakes, other top performers were taro leaf, kangkong, chilli leaf, pumpkin and choko tips, sweetleaf, Ceylon spinach, amaranth, ete and drumstick leaf.
Factsheets, which included how to grow the vegetables, uses, pest threats and harvesting, were given out to all the participants.
In general, the participants also wanted to know how to cook the vegetables as well as grow them.
Many of the farmers at the workshop said they were hungry for this type of information and the chance to share ideas with each other. Many were interested in learning more about composting.
Faleasi'u farmer Ana Epati says through the workshop she learned how to work hard planting vegetables for your health and make money. She also wanted more information about organic solutions for pests and plant diseases.
Tafuatai farmer Latu Siolo says he learned many answers to the problems his family were facing in their plantation, and now had the knowledge to improve his vegetable garden.
The ACIAR project, which finishes this month, also covers Northern Australia and the Solomon Islands.
Taylor indicated there was an opportunity to do more work in the Pacific Islands. "At the recent Nutrition for Growth Summit held in the UK donors pledged US4.15 billion to tackle global malnutrition, so there are now more funds available to embark on similar projects."
She said the project team would seek further funding to promote the use of these local in homes, restaurants, and so forth and "to develop an effective value chain so that a wide diversity of these green leafy vegetables are readily available in both fresh and processed forms.
"Regular consumption of these extremely nutritious vegetables is essential at every age," says Taylor. "Children need the nutrients contained within these foods to support good physical and cognitive development and adults, young and old, need them also to keep at bay the many diseases we have in the 21st century."
ENDS
For more information
Mary Taylor: taybridie@yahoo.co.uk
OR
Faumuina Tafuna'i
Media Officer
Women in Business Development Inc
2nd Floor, Nia Mall, Fugalei
Samoa
Ph: +685 21959
Posted: Wed 19 Jun 2013