WELCOME TO WOMEN IN BUSINESS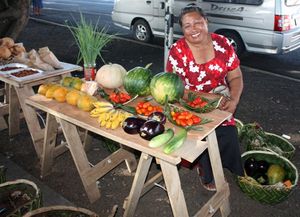 Women in Business Development Inc is an organisation dedicated to strengthening village economies in Samoa in ways that honour indigenous customs, use traditional and modern technology, and promote fair trade. We assist families to earn an income where they live with the resources they have. We believe sustainable development cannot happen without due consideration to culture, tradition and context in which they were developed.
Our families now have a chance to participate in a cash economy. For many, this means being able to send children to school, to pay utility bills and, importantly, to feel better that they have control over their lives instead of waiting for family overseas to send money. On a national scale, the people of Samoa are using their skills, experience and time to uplift themselves and their communities. Through their collective industry they are contributing to Samoa's success as a nation.
LATEST NEWS FROM WOMEN IN BUSINESS
Solar lights to live by


Solar-powered lights to live by, read by and save by are the focus of a Rotary Apia project that is being run in partnership with Women in Business. Rotarian Robyn O'Dell says the solar-powered lights should improve the quality of life for families without power and reduce power bills for other families...

Read More

Finemat – a reflection of beauty
Reverend Tonu Mauafu set the tone for this year's Fa'alelegapepe National Finemat Competitions with his words: The Bible refers to an inner light andthis light reflects what you do, reflects the beauty of everything you do. Indeed, Samoa's finest mats swayed gently through the air as they were paraded in the 2013 Fa'alelegapepe in Savai'i then Upolu... Read More

Production house gets Commissioner's nod
Solid and efficient. That's how the Australian High Commissioner describes the new Women in Business production house at Nu'u.During his official inspection, High Commissioner Stephen Henningham knocked on the walls of the building that received $27,000 from his office's Direct Aid Programme. Read More




Farmer's Truck a Dream Come True
For most people it's four wheels and a source of transport, but for Savaii farmer Lautafi Kelemete Luagalau it's a dream come true.Eleven months after he started processing virgin organic coconut oil in his home village of Sagone, which is fully organically certified, Lautafi has managed to buy a truck with savings and a bank loan.... Read More

Value-added farm exports highlighted
The possibilities for agricultural value addition and export in Samoa were highlighted at the Chamber of Commerce monthly members' meeting. For the past year, Women in Business production manager, Stephen Hazelman has focused on increasing exports at Women In Business. Read More