Women in Business win regional media award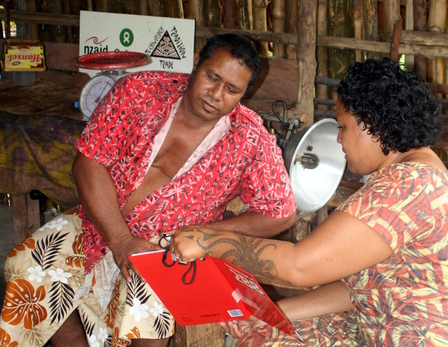 Women in Business has won a regional media contest and will represent the Pacific at an international conference on agriculture in Ethiopia next month.
Women in Business media officer Faumuina Tafuna'i took out the Pacific section in an international competition covering how small farms access commercial markets. There were six regional winners chosen out of more than 100 entries from Africa, Caribbean and Pacific (ACP) countries.
International competition judge Prof Gervais Mbarga said the competition was an excellent initiative showcasing best practices about the importance of media and communications in promoting value chains.
"The candidates showed talent, creativity and originality in bringing out local experiences and practices around value chains in ACP countries."
Tafuna'i said winning the competition simply reflected how well the organic sector is performing in Samoa.
"We must also thank the Samoan media, in particular the Samoa Observer, for supporting our farmers and their journey of going from subsistence to generating sustainable incomes for their families and communities."
The winning article "Standing Proud on Samoan Soil" about Savai'I farmers Kelemete Luagalausefo and Faiumu Faimafili was first printed in the Samoa Observer on 9 August.
The competition was organized by the Technical Centre for Agricultural and Rural Cooperation (CTA) as a run up to the international conference on value chains in Addis-Ababa, Ethiopia from November 6 -9. It was aimed at encouraging media specialists to investigate challenges and opportunities for smallholder farmers to engage in value chains, showcase success stories, and best practices that can be replicated and raise awareness on the importance of agriculture and rural development.
The other regional winners were: Winfred Akhayele Onyimbo (Kenya, Eastern Africa and the Horn); Line Renée ANABA (Cameroun, Central Africa); Inoussa Maiga (Burkina Faso, Western Africa); Patrina Pink (Jamaica, Caribbean); and Darlington Kahilu (Zambia, Southern Africa).
The winners will each receive a cash prize of Euros 1000, and be fully supported to attend the conference in Ethiopia. The final selection of the top three winners will be decided, and announced on 9 November.
CAPTION: Women in Business media officer Faumuina Felolini Tafuna'i interviews Sagone farmer Kelemete Luagalausefo.
For more information, please contact
Faumuina Tafuna'i
Media Officer
Women in Business Development Inc
Ph: +685 21959
Posted: Mon 22 Oct 2012