The Body Shop, Wise Foundation and Women in Business Development team up for youth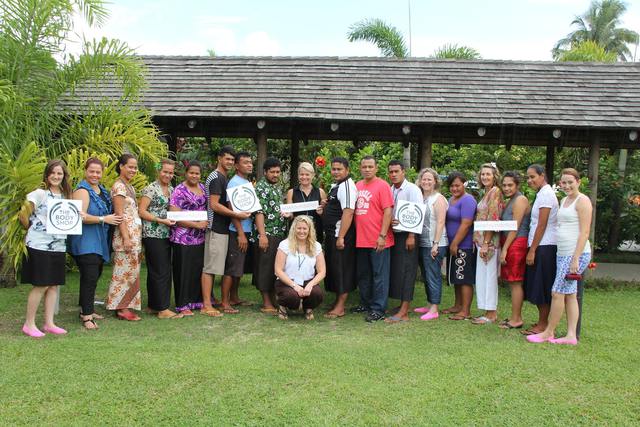 Twelve young Samoans are ready to go and get that new job after graduating from a job readiness skills programme in Apia.
The programme was run by The Body Shop Australia, The Wise Foundation and local partner Women in Business Development and targeted young unemployed Samoans wanting to enter the hospitality and customer service industry.
"This is the first job readiness skill programme aimed at youth and it teaches them about goal-setting, good customer service, attitudes and how they can use all those skills to get a job," said Sarah Reeves, Learning and Development Manager, The Body Shop, Australia.
According to Reeves, her previous visit to Samoa inspired her to come back this year and make this drive for change.
"We met some of the farmers and families back then and learned about some of the challenges they faced and one of them concerned the youth. We found that most of them are leaving school early without a job because there are not a lot of job opportunities in Samoa.
"So we thought we could put this programme together that would enable them to get a job in customer service; we apply our skills and also inspire and motivate them."
In partnership with Women in Business,Reeves said they have been able to come in contact with some of the unemployed youth of Samoa who have the potential to do more.
"Women in Business Development work with farmers in Samoa to collect organic grown food and they supply The Body Shop with coconut oil," said Reeves.
"When we decided to do this programme in Samoa, they wanted to enforce their participants from the farms, some young people we were looking at perhaps getting a job outside of the farms, to do something a little bit different."
Alex McDonald, Executive Director of the Wise Foundation said the programme taught goal-setting, good customer service, attitudes and how they can use all those skills to get a job.
Each mentor worked with their mentees intensively for the full week and will continue to provide ongoing support and mentoring for the remainder of the year.
McDonald is thrilled about what the most recent group of volunteers has been able to achieve and is looking forward to working with community groups in Samoa to identify areas that the Wise Foundation can contribute to in the future.
"It was an incredibly rewarding experience for all our employees that volunteered to work with the Samoan youths. The relationship that has developed between the Wise Foundation, The Body Shop, WIBDI and the Samoan community is testament to our ongoing volunteering efforts in the region."
Sala Perive, of Women in Business Development, was grateful to The Body Shop for sharing their skills and knowledge.
"The Body Shop, Australia is an international company and I am so happy that six of their members could come and carry out a programme like this in our country," said Sala.
"It's good training because it will push those staying at home as well as youths doing farming to experience other opportunities that they are capable of."
Alex Fa'amita is grateful that the programme has given him a second chance to become successful.
"At first, I thought it would be about farming, but I had no expectation of getting a certificate," he said.
He said the programme is also a stepping stone for Samoa if all its youth could have the chance to get a job.
"Many youths waste their time at home having given up," he said. "But the thing is that you don't have to give up, just keep going."
Ms. Reeves and the team from Australia are hoping to come back next year with more to offer for the youth of Samoa.
"We want to come back and see how they have embraced the opportunity and maybe meet some new people."
Posted: Sun 25 May 2014