Women in Business Development president meets NZ PM John Key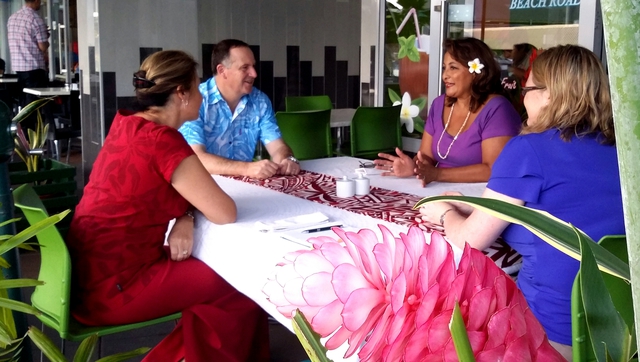 Above: New Zealand Prime Minister John Key meets with businesswoman Sheree Stehlin during his Samoa visit. Also present at the breakfast meeting were New Zealand High Commissioner Jackie Frizell and Prime Minister chief of staff Paula Oliver.
When the New Zealand Prime Minister calls to have breakfast with you at your own café, you want to serve delicious food and sparkling conversation. That's exactly what business owner Sheree Stehlin did yesterday morning at Jalah's Café on Beach Road.
Prime Minister John Key requested a breakfast meeting with Stehlin, who was the 2013 New Zealand Prime Minister Fellow, on his final day in Samoa.
"John Key was in relaxed mode and it put everyone at ease," says Stehlin. "He also enjoyed all the food, which was a highlight for me."
The pair was joined by New Zealand High Commissioner Jackie Frizzell and Key's Chief of Staff Paula Oliver, who is part of the NZ delegation visiting Samoa, Tonga and Niue.
For breakfast, Jalah's signature SasaSlap – a soursop and mint smoothie – was followed by espresso coffees, tropical fruit and muffins. To add that Samoan flavour, the party was also served a local breakfast favourite – vaisalo.
Stehlin explained that vaisalo, which is made green coconut juice and flesh, is usually served to women who have recently given birth to boost their health and their babies' health.
"The Prime Minister was very interested in Samoa's private sector and had many questions about how long I had been in business, my start-up costs and turnover," says Stehlin, who owns several small businesses and is the president of Women in Business Development.
"He also wanted to know about my time as a Fellow and my visit to NZ. To me, I was very impressed with the different Maori organizations with how well organized and financed they were, in particular the Maori Women's Development Inc in Wellington and Te Runanga o Ngai Tahu in Christchurch.
She said the Prime Minister was full of questions about private sector development in Samoa and wanted to know what the biggest challenge was, to which she replied "financing".
"It was good to have Jackie [Frizzell] there because she spoke about the Small Business Enterprise Centre's guaranteed loan scheme as well as the Public Sector Support Facility, which are programmes that NZ gives money to.
"The Prime Minister also asked who my main customers were and I said it was mainly locals but I would like to see more tourists coming to Samoa."
At the end of the meeting, Stehlin presented Prime Minister Key with a gift bag from Women in Business Development.
Afterwards, the Prime Minister and his delegation visited Poutasi Gardens and To Sua Trench before leaving for Tonga in the afternoon.
Posted: Fri 06 Jun 2014