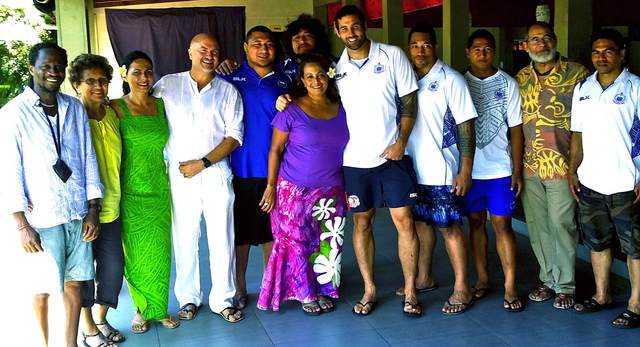 Above: Award-winning author and TV chef Robert is joined by Women in Business Development and Manu Samoa at a celebration lunch earlier this week.
Double Gourmand-award winning author Robert Oliver was honoured earlier this week at a celebration lunch at Millennia Hotel.
Women in Business Development board and management earlier this week toasted Oliver for winning the Gourmand award for Best TV Chef Cookbook in the World for Mea'ai Samoa: Recipes from the Heart of Polynesia.
"Robert, we just want to say congratulations for this amazing achievement that has put Samoan food on the world stage," said Women in Business Development president Sheree Stehlin.
"We know there are other people who could not be here because of their commitments with the visiting New Zealand delegation but we wanted to take this opportunity to know we appreciate you and celebrate what you have achieved."
To add to the occasion, members of Manu Samoa joined Robert Oliver for a photo and coach Stephen Betham congratulated him on his award.
Later, Oliver told the group he had not expected to win and was completely stunned. "I was looking at the main screen that had all the book covers on and then suddenly Mea'ai Samoa took up the whole screen, and I thought, 'Oh that looks familiar'."
It was the eruptions of "choo-hoos" from the Samoan dance team that jolted a dazed Oliver.
"To be honest, I was so surprised because no-one has won two major Gourmand awards before," says Oliver. "And as I walked on stage, I was mindful of all the people who helped create Mea'ai Samoa, especially Women in Business Development, Sonja Hunter and Samoa Tourism Authority. I felt like you were all there with me.
"I have to acknowledge the political support that I have had from Prime Minister Tuilaepa and from Ambassador Tapusalaia Terry To'omata at the award ceremony."
Louisa Sifakula also attended the award ceremony from Pacific Islands Trade and Investment Commission.
The Samoan dancers, which were organized by Samoa Tourism Authority, were only one of two dance groups to perform at the beginning of the ceremony. The other group was from China.
Oliver says the award tells him and the world that an internationally respected food organization recognizes the power of Samoan cuisine and organics.
He was in Samoa as a guest of the New Zealand High Commission during the Independence Celebrations.
His impact on local menus was noted in the food that was served at the High Commissions official function for the visiting New Zealand political delegation.
Caterer Bev Arp served trays of food cooked from recipes from Mea'ai Samoa: laupele fritters, sticky misiluki pudding and koko samoa cake. Arp also served faiai fe'e and mini fa'i, which were appreciated by all the guests.
Oliver is also helping to create the food approach for the UNSIDS food court. He will be returning next month to assist with that project.
He is also involved with the Farm to Table pilot with Women in Business Development. He says that although that pilot is small, it will "develop the process whereby we can connect all Pacific farmers to the tourism.
"In five years, we could flip the domestic health situation in Samoa and have a fully independent economy."
Posted: Tue 03 Jun 2014