Robert Oliver wins global award for Samoan cookbook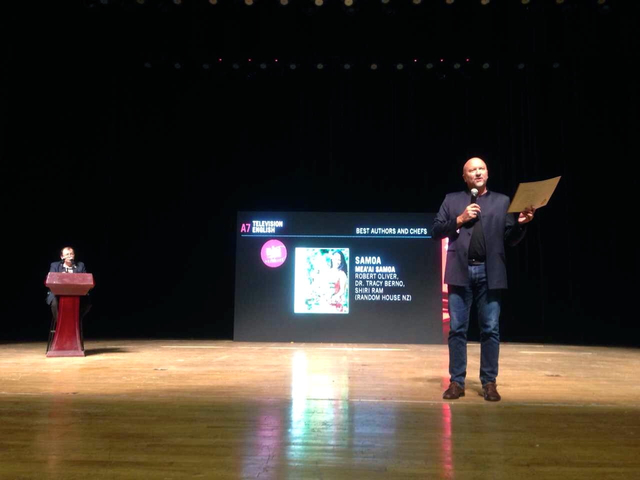 Above: From Beijing, China, chef and author Robert Oliver accepts his second Gourmand Cookbook Award, this time for Mea'ai Samoa: Recipes from the Heart of Polynesia.
Chef and author Robert Oliver has taken Samoan cuisine to the top of the world by winning a prestigious international cookbook award.
Oliver yesterday won the Gourmand Award for Best TV Chef Cookbook In The World 2013 for Mea'ai Samoa: Recipes from the Heart of Polynesia and his cooking show, Real Pasifik, made by acclaimed TV production company Zoomslide, based in New Zealand.
Accepting the award in Beijing, China, Oliver said that he felt both honoured and humbled. "I guess at this point you could say that Samoa cuisine has truly arrived on the world stage.
"Samoa is a small nation with a big story, because at the heart of its cuisine is the amazing fact that this small country in the South Pacific has close to 1000 organic family farms thanks to a brilliant local women's group called Women in Business Development and I want to thank them first for letting me be a part of their family.
"I am thrilled to have the Ambassador of Samoa to China, Tapusalaia Terry Toomata, here tonight, and also wish to thank the Prime Minister of Samoa Tuilaepa Lupesoliai Sailele Malielegaoi and the Samoan Tourism Authority for entrusting me with this project and the New Zealand government for supporting it."
Oliver also thanked co-author Tracy Berno and photographer Shiri Ram, and Random House New Zealand and Le Cordon Bleu New Zealand. "I'd like to thank my amazing TV production company in Auckland, Zoomslide Productions, but most of all I am just so happy to be bringing this award home to the outrageous and brilliant people of Samoa."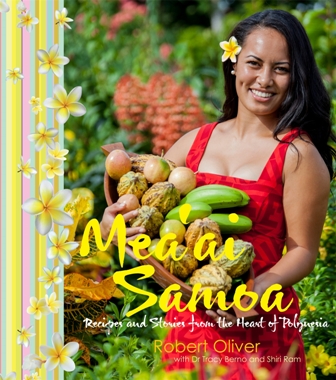 Prime Minister Tuilaepa said Oliver had taken Samoan food from our villages and transformed them to another level so they can be served at hotels and restaurants.
"What he has done has recorded and elevated our food culture, our organic farmers and our country. We are both proud and grateful to him."
Oliver said the award recognised how special Samoan cuisine is and that "by presenting the real people and culture behind the food, we have a winning formula".
The Gourmand awards are considered to be the "Oscars" of cookbooks and Oliver had tough competition with fellow finalists including famous Australian chef Peter Kuravita and Oprah Winfrey's chef, Art Smith. Second place went to another New Zealand chef Nadia Lim for Nadia's Good Food Cookbook.
The awards were founded in 1995 by Edouard Cointreau - from the French family famous for the Remy Martin brand and for establishing the international Le Cordon Bleu cooking school. This year there were finalists from 187 countries.
In 2010, Oliver, and his team co-author Dr Tracy Berno and photographer Shiri Ram, also won the main award – best Cookbook in the World – for their debut book, Me'a Kai: The Food and Flavours of the Pacific. Oliver became a Le Cordon Bleu ambassador after winning that award.
Oliver and Zoomslide are currently filming a second series of Real Pasifik, including an episode in Samoa, scheduled to broadcast on TVNZ later this year. The first series of Real Pasifik is currently playing throughout the Pacific.
Women in Business Development assisted Oliver in sourcing village recipes and cooks and the cultural editing for the Mea'ai Samoa cookbook. Executive director Adimaimalaga Tafunai said the award highlighted the power of Oliver's approach in fusing tourism, cuisine and organic agriculture together.
"We have always promoted this cookbook as an economic development tool because it shows how we can involve our farmers in our growing tourism industry.
"We are extremely pleased for Robert Oliver because this wonderful book took much expertise and time to write but also it required a deep love for the Samoan people."
As a result of the book, Women in Business Development and Oliver have created a Farm To Table project. It links farmers to local hotels and restaurants and the pilot is funded by the United Nations Development Programme with a particular focus on youth.
Posted: Sat 24 May 2014