Mea'ai Samoa cookbook vies for international award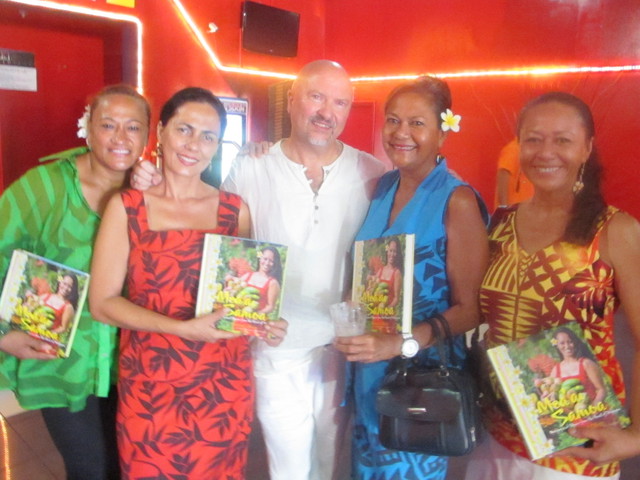 ABOVE: Cooking sensation: Cookbook Mea'ai Samoa: Recipes from the heart of Polynesia, which was co-written by chef Robert Oliver (centre), is a finalist for a Gourmand International Cookbook Award. Oliver is pictured here with (left to right) Cecilia Peterson Keil, Carmel Moore, Shaddow Fau, and Rosabel Keil, who all feature in the cookbook.
Samoa's newest cookbook Mea'ai Samoa: Recipes from the heart of Polynesia is a finalist for a prestigious international cookbook award.
The Mea'ai Samoa book will represent Samoa and is one of five finalists in the category of Best TV English Cookbook, due to its connection with author Robert Oliver's food TV show Real Pasifik made by Zoomslide Productions.
For the award-winning trio, authors Robert Oliver, Dr Tracy Berno and photographer Shiri Ram, it is the second time at the Gourmand Awards after they won Best Cookbook in the World in 2010 for Me'a Kai: The Food and Flavours of the Pacific.
"I'm thrilled because it puts Samoa on the global cuisine map," says Oliver. "I am also humbled because this is just our second book and again it has reached international standing.
He says the Gourmand Institute created a new country category for Samoa so that it could include the cookbook in the awards. Oliver's connection to Samoa started when his parents, Dennis and Jean, lived in the Samoa in 1980s and started the YMCA there.
"I think that the magic of this book is that you open it and you see Samoa. Shiri's photos capture that sparkle and spirit of the Samoan people. And, the book also present the full culinary landscape from the village to the top chefs to the home cooks – it really shows the best of Samoa and it is an inspirational journey."
Oliver says Prime Minister Tuilaepa Sailele Malielegaoi's support for the book and eloquent foreword has also made the book stand out from other cookbooks.
"To have a national leader embrace how agriculture, especially organic agriculture and tourism can help a country develop economically and physically is extraordinary."
To produce the book, which was published by Random House NZ, Oliver collaborated with Women in Business Development and Samoa Tourism Authority to source recipes and cooks.
"We also enlisted the help of Women in Business Development to provide cultural guidance and to make sure that this would be a book that Samoans would be proud of."
Women in Business Development executive director Adimaimalaga Tafunai says the organization is pleased but not surprised by the international recognition.
"This is more than a cookbook with beautiful photos and wonderful recipes, this is a development tool for how we can start to have more local produce served in our restaurants and hotels, and therefore support our local farmers. In that way, the power of this book is just beginning to be realized."
Tafunai says the organization is now working with Oliver in a Farm to Table project that links smallholder farmers to local restaurants. The project is funded by the UN Development Programme and includes the development of young farmers.
The Gourmand award winners will be announced at the Beijing Cookbook Fair on 20-21 May in Beijing.
Posted: Tue 04 Feb 2014