Samoa's coconut oil a long-term export, says The Body Shop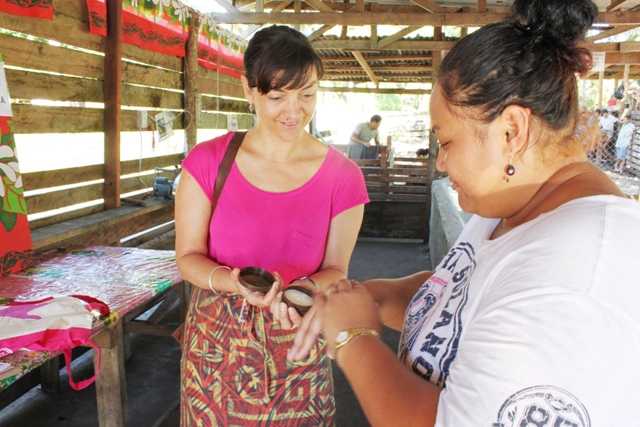 ABOVE: The Body Shop's Christina Archer shows organic virgin coconut oil producer Paulina Schwalger from the village of Patamea, Savaii, one of The Body Shop products that contain coconut oil from Samoa.
Think long term and plan out your business and exports on an annual basis, is the message from cosmetic giant The Body Shop International to Samoa's Women in Business Development.
Christina Archer is senior ingredients buyer for The Body Shop and was recently in Samoa visiting farmers. She says she wants farmers to plan not just for the next shipping container, but for each year because virgin coconut oil is a key ingredient in 30 products in the company's cosmetic range.
"We have been buying organic virgin coconut oil since 2008 from Women in Business Development farmers as part of Community Fair Trade programme, which began 25 years ago," says Archer, "and we plan to keep buying for many years to come."
Archer, who is based in England, spent five days in Samoa visiting eight virgin coconut oil producers in Savaii and working with Women in Business staff to confirm the Samoan organisation was complying with Community Fair Trade conditions.
Women in Business Development executive director Adimaimalaga Tafuna'i says Archer was visiting as part of a routine stay in Samoa.
"Over the years we have had many visits and it is always good to check we are meeting our contractual obligations – not just in terms of the quantity and quality of our oil, but also that farmers are fairly treating their staff and that the work environment is a safe one.
"We currently have eight producers in Savaii, and another two in Savaii, who will start pressing oil again once coconuts are available."
Tafuna'i says Tropical Cyclone Evan damaged many coconut plantations in Upolu, but coconut volumes should be back to normal in a few months' time.
Overall, Archer says she was happy with the progress Women in Business Development were making in attracting and training farmers to press coconut oil.
"I met some really wonderful farmers who are developing businesses that use all parts of the coconut so that nothing is wasted. I even had a go at scraping a coconut and it is not as easy as it looks."
Both Tafuna'i and Archer were in Melbourne to take part in The Body Shop Australia promotions, prior to the Samoa visit, and then flew to Auckland for another promotional session with The Body Shop New Zealand.
Tafuna'i says her role was to talk about how Community Fair Trade benefits the organic farmers involved in the project in Samoa.
"This programme has been instrumental in allowing Samoan families in the villages gain access to a market for its coconut oil, which goes into products that are sold in more than 3000 stores around the world. But more than that, The Body Shop has been incredibly patient and supportive as we try to build our capacity to produce and export our oil."
Last month, The Body Shop was named International Responsible Business of 2013 for its Community Fair Trade programme in London.
Francesco Vanni d'Archirafi, Chair of Business in the Community's International Leadership Team, who presented the award, said that through the programme, "25,000 workers in marginalised communities earn a fair wage enabling them to support their families - directly benefitting more than 320,000 people annually, and helping with the education of 6,400 children. It attracts customers, motivates staff and secures a reliable supply chain.
"The Body Shop is a true champion of the small producer – demonstrating true leadership in addressing the Millennium Development Goals agenda. The judges felt that this programme is industry changing, and the influence it has had, including with their parent company, L'Oreal, has been immense."
On accepting the award, The Body Shop dedicated the award to its Community Fair Trade partners.
Posted: Tue 13 Aug 2013