Mea'ai Samoa book launched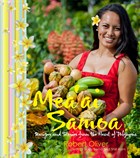 Samoan culinary experts dished up their approval of Robert Oliver's new cookbook Mea'ai Samoa: Recipes and Stories from the Heart of Polynesia.
The book's launch, held ion november 5 at Apollo Cinemas, saw Prime Minister Tuilaepa Sailele Malielegaoi urging local restaurants to include some of the recipes on their menus.
In his keynote speech, Tuilaepa said the book represents developments for Samoa as it promotes "our food, our organic farms, our culture and our people."
"We are indeed thankful to the God given talented Robert for compiling our collection of Samoan recipes," he said.
Tuilaepa said the different recipes "will hopefully be featured strongly in the restaurant menus as in our own homes.
"To reintroduce healthy and affordable meals from our own fresh home grown local produce from the plantation to the tabe.
"A few years ago I promoted a scholarship scheme for the benefit of practicing tourism and hospitality students at the National University of Samoa.
"With the launching of our very own cook book I want to take this one step further and ensure that the University will also utilise this book in its food and beverage and cookery curriculum.
"To promote the presentation of Samoan food so that hotels and restaurants will have more qualified NUS cooks."
He said the author and recipe owners will be involved in several training workshops that will offer our people insight to the art of quality food and presentation techniques.
"We thank the lord for Robert having grown up in our midst for which he has embraced our culture and culinary practices and with that we thank you," said Tuilaepa.
He said Samoans believe that sharing our food "brings together our aiga, friends and visitors and for many of us it is a partaking of food especially that we greet each other and welcome back old friends.
"To settle the difference of heartened wrong or to enjoy the celebration of an achievement as we are doing this morning.
"We are confident that it is in the sharing of the Mea'ai Samoa that more people from around the world will come to understand and also enjoy our beautiful country.
"We are especially pleased that Robert has included the involvement of the publishing company the Random House which some books stores in specific countries will sell Mea'ai Samoa."
Mea'ai Samoa is a follow up of Mr Oliver's first book Me'a Kai: The Food and Flavours of the South Pacific.
"Samoa, the Prime Minister asked me to write this book (Mea'ai Samoa)," said Mr Oliver.
The recipes promote healthy eating and is Mr Oliver's tourism model that he believes will benefit Samoans.
Mr Oliver said his book is the beginning of an activity to integrate Samoan cuisine into Samoa tourism, he said he believes the story of Samoa is woven in Samoan food.
Mr Oliver is a New Zealand based chef whose parents once lived in Samoa.
Through his career he has worked in Fiji, New York City, Miami, Sydney, Las Vegas, the US Virgin Islands, Barbados and Trinidad.
From the Samoa Observer http://www.samoaobserver.ws/other/community/7858-meaai-samoa-cook-book-launched
Posted: Fri 13 Dec 2013