The Body Shop NZ send winners to Samoa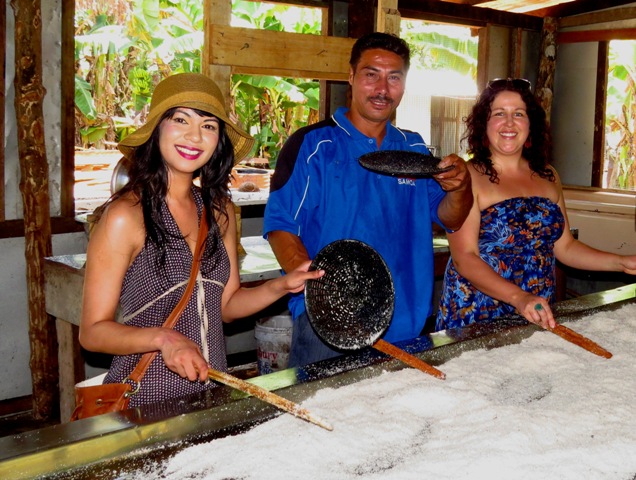 ABOVE: The Body Shop NZ's award winners Rosie Rye and Nicola Robinson flank Women in Business Development farmer Gasu Isaako as they learn about Community Fair Trade and how virgin coconut oil is produced.
Seeing virgin coconut oil being produced in Samoa became the highlight for the winners of a national The Body Shop NZ make-up competition.
Hosted by Women in Business Development, the two winners Nicola Robinson, manager of Lambton Quay store and Rosie Rye, manager of The Base, Hamilton store were accompanied to Samoa by national make-up manager Louise Mills.
Women in Business Development executive director Adimaimalaga Tafuna'i said the trip was a chance for the trio to see how The Body Shop's Community Fair Trade programme, which buys all its virgin coconut oil from Samoa, is benefitting farmers.
The trio travelled to Savaii to virgin coconut oil produced at the Gasu Aipovi family farm in Satupaitea and Tafuna'i said they all remarked on how seeing it made helped them understand the purity of the cold-pressed oil.
"This visit from New Zealand comes on the back of visit earlier this year from The Body Shop UK when Community Fair Trade senior ingredients buyer Christina Archer came to Samoa to carry out a routine inspection. To host people from the retail side of The Body Shop is new for us and it was great to take them to meet one of our producers."
Robinson said it was amazing to see the roots of the product and to see that it was very connected to the earth. "You know where it has come from and it's going to make a great story to tell the customers."
Rosie Rye said that being at the other end of the product spectrum where they were handing the product to customer meant that travelling to Samoa "was really important to see the coconut oil being made and who is making it".
Farmer Gasu Isaako, who has been producing virgin coconut oil for eight years, said the oil was the main source of exports for the producers. "It is good to see these workers from The Body Shop NZ in Samoa so they can see how the oil is produced."
The Body Shop NZ director Barrie Thomas said virgin coconut oil is the only Community Fair Trade ingredient sourced in the Pacific so choosing Samoa as prize destination made sense.
"Eighty per cent of the products of The Body Shop contain Community Fair Trade ingredients and we work with 28 communities around the world, but our trade with Samoa is particularly important to The Body Shop NZ," said Thomas. "To see how this trade has benefitted communities in Samoa will help Nicola, Rosie and Louise to inspire their colleagues to be even more enthusiastic about Community Fair Trade."
Another visit high on the agenda was Samoa Victims Support's House of Hope at Tuana'imato, which provides a home for children who are victims of abuse.
"Spinning Top is the adopted charity of The Body Shop NZ and we have been supporting them in their work with Samoa Victim Support for two years, said Thomas. "It was invaluable to see both the use to which our help has been put and also how great the need is."
Samoa Victims Support president Lina Chang said Spinning Top had contributed with funds and bedding and also had volunteers assisting in Samoa.
She extended her thanks to The Body Shop NZ for their support of Spinning Top and Samoa Victim Support Group.
During their week in Samoa, the visitors also hosted a make-up demonstration at Women in Business Development offices that was attended by several salons.
Posted: Wed 09 Oct 2013