Sharing the Women in Business way with Tokelau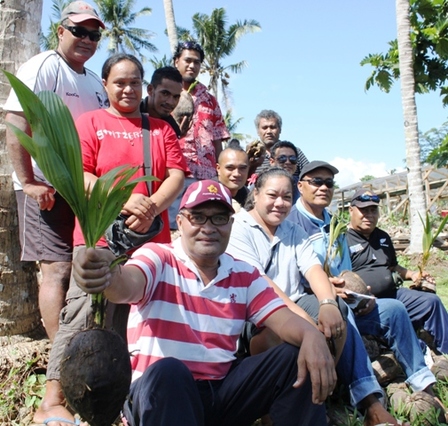 Pictured above: This team from Tokelau is in Samoa for two weeks to learn about different agricultural businesses from Women in Business.
Women in Business is hosting a team from Tokelau to share how to set up organic agricultural enterprises.
Women in Business executive director Adimaimalaga Tafuna'i says the organisation was contacted by Mika Perez, director for the Tokelau Department of Economic Development, Natural Resources and Environment (EDNRE).
She says Perez was looking at business opportunities for its island residents.
"We are just sharing information with them – giving them the opportunity to learn from everything that we have done and hopefully it will lead to something good."
The team spent Monday at the organisation's Nu'u processing site and nursery learning about Women in Business activities.
Yesterday they travelled to Savai'i, where they will spend the majority of their two-week visit, to see farm-based virgin coconut oil processing, including the building of new processing sites in Salailua and Gataivai.
Asifangalua Halaleva-Pasilio, manager for the Economic Development Division, ENDRE, and is co-ordinating the Tokelauan team.
She says the team will be receiving training on organic certification – information gathering and mapping, organic farming techniques such as composting and virgin coconut oil.
"We do not have enough coconuts to export so there needs to be a replanting scheme," says Pasilio. "We would also look to substitute imported oil for coconut oil, and then perhaps exports.
"Most people leave to go to New Zealand with the New Zealand passports. In Tokelau, the Government is the main employer, as for exports I have never heard of exports coming out of Tokelau."
The team features three village representatives from Tokelau's three islands. They are: Kolopa Va'ai, Sagato Ugone, and Peter Patelesio from Nukunomu; Kahimilo Niko, Manatua Manatua, and Rimoni Fuiava from Fakaofo; and Kisona Gaualofa, Sinalagi Lopa, and Salatielu Filo from Atafu.
Posted: Tue 28 May 2013