Finemat – a reflection of beauty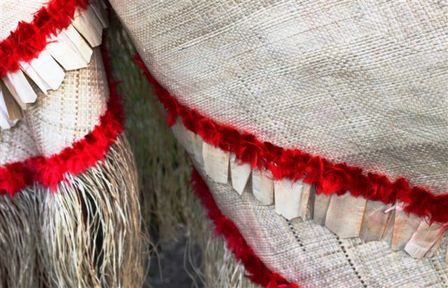 Reverend Tonu Mauafu set the tone for this year's Fa'alelegapepe National Finemat Competitions with his words: The Bible refers to an inner light and this light reflects what you do, reflects the beauty of everything you do.
Indeed, Samoa's finest mats swayed gently through the air as they were paraded in the 2013 Fa'alelegapepe in Savai'i then Upolu.
Prime Minister Tuilaepa Sailele Malielegaoi congratulated all the women saying that this year the public had witnessed an exhibition of quality and now quantity.
Tuilaepa said ten years ago the Government took the initiative to ensure that future generations will have fine mats to meet their cultural obligations and also to do away cheap, low-quality mats.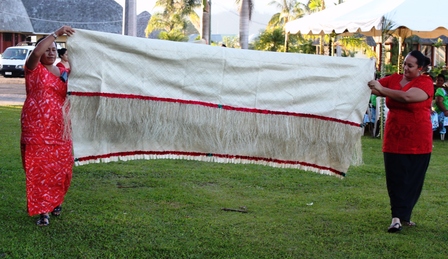 RIGHT: Prime Minister Tuilaepa Malielegaoi singled out this finemat as having the best decoration that other finemats should follow.
He added that it had been quite a challenge to learn the skills of weaving an ie sae, and he congratulated the thousands of women who had continued this Samoan measina.
Samoa Qualifications Authority now recognises weaving with a qualification, said Tuilaepa, which acknowledged the art form in the same way other cultures overseas did with their treasured arts.
The Prime Minister has now issued a challenge that for any group that weaves 10 finemats in one year, they will receive $5000 on top of any other prizes.
The five top winners in the Tosi Tasi (strip one) were awarded $1000. These went to: Auomala Solo from Falelima; Apiseka Afualo from Tufutafoe; Tiva Eteuati and Talalelei Oreni from Fagasa; and Unita Toese from Lepa.
The four top Tosi Tasi winners from Savai'i are all sponsored weavers receiving a weekly income on the Women in Business finemat programme.
Fuimaono Rosalia Me says she wanted to acknowledge and thank all the women who over the past decade have been working hard in the programme, which has Tosi Tasi, Lua and Tolu.
"With our sponsorship the weavers have managed to develop their families and also send their children to university. We have continued to insist in high quality from our weavers and now they consistently gain prizes at the annual awards."
Fuimaono said that although some women had left the sponsor scheme, they now led village weaving groups and managed their own marketing. These groups also provide an opportunity for other women to earn an income.
The Tosi Lua (strip two) winners with a prize of $800 each were: Kasau Fagamalo from Gaitaivai; Se'ula Lafaele, Malienafau Matautua, Evelina Kalolo Poutasi Fa'afouina and Vaoliko Pelenatete from Sataua.
The Tosi Tolu (strip three) winners all received $500, these were: Pepe Taulogo from Gataivai; Sauilepo Autagavaia, Leai I'o and Li'aga Sefo from Fagafau; Moefalasili Ioane from Tufutafoe; To'atasi Lauano, Sivaimao Tali'u'o, Maria Uaita from Patamea; Tineiafi Avefua and Fa'ilagi from Tapueleele; Itulagi Sosene from Vaiafai; Se'ula Lafaele and Sialuga Valasi from Sataua; Soloa Nofosala from Puapua; Vailoa from Faletusi ma Tausi; Fofoa Feterika, Talifa Fiso, June Kolotita Ailuai, Soloiluma Lelilio all from Vavau; Tofiga Manatua and Malama Loau from Faleula; Malepe Luatua from Saleilua Falealili; and Eseta Tulifau from Aufaga.
The winners for the siapo prizes were: Komiti Tina Ma Tamaitai Salailua, Komiti Tina Ma Tamaitai Sagone, Komiti Tina Ma Tamaitai Vavau, and Komiti Tina Ma Tamaitai Faleapuna.
Posted: Tue 14 May 2013