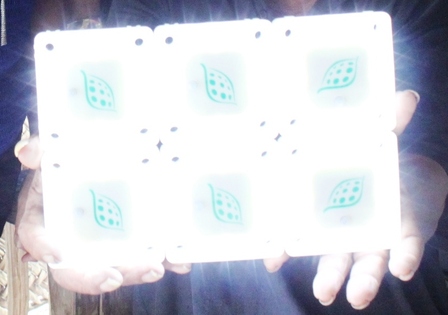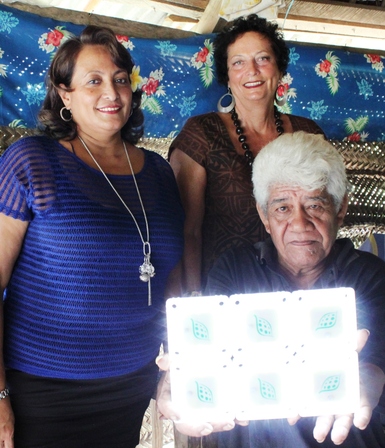 Solar-powered lights to live by, read by and save by are the focus of a Rotary Apia project that is being run in partnership with Women in Business.
Rotarian Robyn O'Dell says the solar-powered lights should improve the quality of life for families without power and reduce power bills for other families.
"We also see the lights increasing safety in the home by replacing kerosene lamps," says O'Dell.
Right: Women in Business President Sheree Stehlin (left), Apia Rotarian Robyn O'Dell and Malie farmer Ioane Paulo (front) show off a six pack of solar-powered lights.
She says these solar lights have been used in renewable energy projects in Papua New Guinea with great success, and it was the first time they were being offered in Polynesia.
The sturdy Flexiway lights are sold individually and can be clicked together to form larger units. On a full charge, the powerful 9cmx9cm lights will give off six to eight hours of light or up to 12-15 hours on the 50 per cent setting.
"We received seed funding Rotary groups in Australia and Apia Rotary covered the wharf costs," says O'Dell. "Now, Women in Business will begin to sell the lights to families across Samoa for a small price."
She says the proceeds from the lights, which are being discounted to farming families at $20, will be used buy more lights to help more families in Samoa.
Ioane Paulo, a vegetable farmer from Malie, was the first recipient to receive the lights last week. His family lives in three Samoan fale and use a mixture of kerosene lamps and electric lights.
"We had no power for weeks after Tropical Cyclone Evan and we often have power cuts in our area so we have to use the hurricane lamps," says Paulo.
"We are so grateful to Rotary and Women in Business for thinking of us and I congratulate them for bringing a project like this to Samoa, because we are not able to buy lights like these here."
Paulo said he felt "blessed" to be the first family to have the lights and they came at good time because of Mother's Day.
Women in Business president Sheree Stehlin also thanked O'Dell and Rotary for their initiative.
"Lighting is very important for our people, especially for our children who do their homework at night.
"We commend Rotary for this project and for all the work they do in the community."
Families interested in purchasing the lights can contact the Women in Business Fugalei office on 21959. For other needy groups, please email robyn.odell@gmail.com.
Posted: Wed 15 May 2013