International experts focus on virgin coconut oil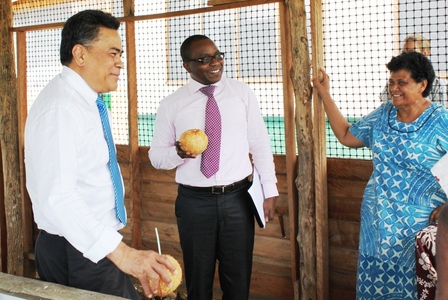 Discussing organic virgin coconut oil as an export commodity was the focus of a visit yesterday to Women in Business' production site at Nu'u.
Samoa Ambassador to Belgium Fatumanava Dr Pa'o Luteru and Bobby Byll, from the Secretariat of the African Caribbean and Pacific (ACP) Group of States, took the guided tour to learn more about Women in Business and its activities.
Fatumanava said he thought Women in Business had taken the right approach in looking a high-value niche markets.
"Our visit was really to see what type of work Women in Business are engaged in. We know the EU has been a supporter of the organisation's work in the past."
He also remarked on the need to scale up national production to meet local and international demand.
Byll, the ACP Secretariat's managing expert of policies related to commodities, asked whether having a single major buyer for coconut oil was an issue for the organisation.
Women in Business acting executive director Fuimaono explained that although The Body Shop was the major buyer, now that the farmers had increased their production capacity, the organisation could look to add other markets.
Fatumanava and Byll are in Samoa for meetings this week with relevant stakeholders potentially involved on the Pacific Regional Coconut Developpement Dossier. They will be gathering additional information on feasible coconut-related projects.
Samoa has recently been included to participate in this pilot project, which also included at the beginning Fiji, Solomon Islands, Papua New Guinea and Vanuatu. Pilot projects should be implemented in Vanuatu (Santo) and Samoa. Other countries may come on board later on.
At the tour, the full array of Women in Business activities were on display including a traditional fine mat, the ie sae.
"I have not seen a mat of this type of quality in such a long time," remarked Fatumanava.
He said that Women in Business "grassroots activities" fit in well with the Cotonou Agreement.
The agreement, which is between the EU and developing countries, is centred on reducing and eventually eradicating poverty consistent with the objectives of sustainable development and the gradual integration of the ACP countries into the world economy.
Posted: Tue 02 Apr 2013