Farmer's truck a dream come true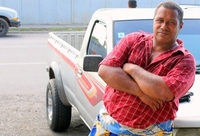 For most people it's four wheels and a source of transport, but for Savaii farmer Lautafi Kelemete Luagalau it's a dream come true.
Eleven months after he started processing virgin organic coconut oil in his home village of Sagone, which is fully organically certified, Lautafi has managed to buy a truck with savings and a bank loan.
"Now I can go and collect my own coconuts from my plantation as well as from the other organic farmers around me," says Lautafi. "Thank you for all the help I have received to get this truck."
Then his thoughts turned to his family who were waiting to hear the good news. "I'm going to call my wife and tell her we have got a truck."
Lautafi paid for his truck with personal savings held at Women in Business and a bank loan from Samoa Commercial bank that was guaranteed by the Small Business Enterprise Centre (SBEC).
Women in Business executive director Adimaimalaga Tafuna'i said Lautafi was a farmer dedicated to providing a sustainable livelihood for his family.
"We knew that having a truck was essential to Lautafi's success, which is why we facilitated the loan process with SBEC.
"We support people who really want to help themselves - determined people who have a vision for their families. We have learned over years that the key to successful ventures in Samoa is working with the family unit."
From this small village Sagone, Lautafi is making high quality virgin coconut oil that ends up in cosmetic stores around the world.
Lautafi bought his truck from Francis Uhrle at Uhrle Auto Repairs in Lotopa.
Posted: Wed 17 Apr 2013