Support local farmers, boost economy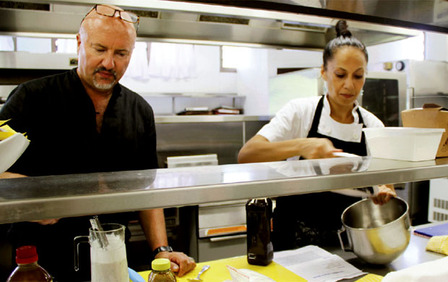 ABOVE: Chefs Robert Oliver and Dora Rossi preparing meals made from ingredients from Samoa's organic farms.
If you support local, then you are supporting the economy.
That's the message concerning using local farm ingredients from chef Dora Rossi of Paddles Restaurant at Matautu-Tai.
Rossi this week spent time alongside international chef Robert Oliver and Zoomslide television productions as they filmed an episode for their food and travel show Real Pasifik.
"Everyone benefits if we go local," says Rossi. "It's time to showcase what Pacific cuisine can be because the food is genuine, not processed."
Paddles is owned by the Rossi family – father Eliseo, mother Va'atofu, brother Giovanni who runs the front of house, and even sister Kelita does the accounts now. The food has always had an Italian influence, but Rossi intends to start incorporating more local flavours and ingredients.
The Samoan/Italian chef says it was an amazing experience for her and the other local chefs – Dana Rasmussen, Sonny Va'asili and Toe'ae Fesola'i – to work with a chef of such great calibre who knew the local ingredients.
"It's priceless, and for Robert Oliver to be so giving, I'm really humbled," says Rossi. "He's opened another door for us. It's amazing to have someone show you, awaken you."
Oliver visited Samoa in September and some of that visit will be aired in Samoa on Tagata Pasifika tonight and then again on Sunday.
He says that Samoa has the greatest potential to get the food/humanity/survival balance right because of its focus on organics and the leadership Women in Business and the Government is showing.
"The irony is there are all these health problems but these aren't to do with the natural Samoan diet but with imported processed foods," says Oliver.
"When you look at China and the US, their food systems have broken down and after that culture and health break down."
Zoomslide director Anna Marbrook says it was awesome to see linkages formed between the farmers and the restaurants.
On Tuesday Oliver, Rossi and local chefs prepared a three-course meal at Aggie Grey's Lagoon Beach Resort and Spa using local ingredients such as lau ti, o'o, koko Samoa, green pawpaw, and laupele.
Oliver says working with Women in Business and its organic farmers and Samoa Tourism Authority was part of key to making sure positive changes were sustainable.
Over at Paddles, chef Rossi says she plans to experiment with more local ingredients. For Tuesday's luncheon, Rossi adapted her sticky date pudding to Sticky Misiluki Pudding using Women in Business dried bananas.
"This is the right path for Samoan tourism. I'm so excited about it."
She adds there needs to be education in schools about diet and the great ingredients Samoa has to offer to help bring about change.
Oliver and Zoomslide left Samoa on Wednesday. Next week they are filming in the Cook Islands as part of Real Pasifik. The series is inspired by "Me'a Kai the food and flavours of the South Pacific", which was co-written by Oliver and Tracy Berno and won Best Cookbook in the World at the Gourmand Awards in Paris in 2010.
Posted: Wed 20 Mar 2013