Samoa organic committee take to the field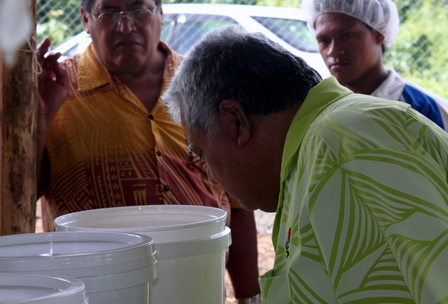 Inspecting organic farm developments was the order of the day for Samoa's Organic Committee.
Chaired by the Prime Minister Tuilaepa Sailele Malielegaoi (pictured), the committee visited Women in Business' demonstration and production site at Nu'u and the Scientific Research Organisation of Samoa (SROS) at Vailima last week.
"I wanted an opportunity to get the committee, especially members from rural areas, to sight the products and produce we talk about at our meetings." says Tuilaepa.
"I am keen to have many more organic farmers in Samoa," says the Prime Minister because it is "far cheaper for farmers to adopt organic farming because there are no outgoings in terms of costs".
He said it was also healthy for the people and the soil too.
The committee was set up in 2011 and comprises Ministry of Agriculture and Fisheries Minister and CEO, Ministry of Natural Resources and Environment Minister and CEO, Women in Business representatives, and farmers selected by Cabinet.
As well as heading Samoa's organic committee, Tuilaepa is also the chair of the Pacific High Level Organic Group, made up of Pacific Forum leaders committed to developing organic agriculture in the region.
During the visit to Women in Business, the committee inspected the organic nursery, saw fetau and virgin coconut oil being pressed and many organic products such as nonu juice, dried bananas and vanilla.
Vanilla pollination sparked much discussion and Tuilaepa requested that more training to be conducted in this area.
Women in Business acting executive director Fuimaono Rosa Me says their Nu'u nursery is about developing enough seedlings to supply the organisations 600-plus farmers.
Fuimaono says that organic farming is a growing trend worldwide, and is especially important in the Pacific to help soften the effects of climate change.
"Organic farming builds soil that is more stable and fertile and less vulnerable to drought and extreme flooding."
She adds that at Nu'u Women in Business are also testing ways to deal with pests and weeds without breaching organic certification rules.
Currently the Samoan Government provides funding to assist with organic certification. This is done via Women in Business, which enrolls farmers and monitors organic compliance for the National Association for Sustainable Agriculture, Australia.
Fuiamaono welcomed any interested farmers to visit the organisation's office on the second floor of the Pat Ah Him building in Fugalei.
Over at SROS, the committee heard how scientists test for quality and safety of products such as beer, water and coconut oil.
SROS is also conducting an organic trial with Pacific Agribusiness Research for Development Initiative to grow taro.
The Prime Minister says he is particularly interest in the taro project.
"I had let it known my own objective is to produce best and tastiest taro that is 5ft tall, like the giant taamu, and can mature in two months. It is a miracle if it happens … but it comes out of the simple belief that nothing is impossible."
Posted: Tue 12 Mar 2013