Adi Tafuna'i - It's about the people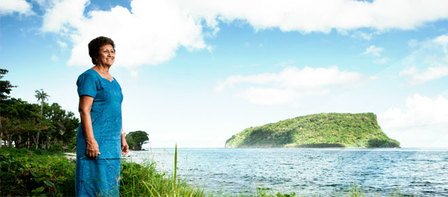 The first thing Adi Maimalaga Tafuna'i will tell you is that it is not about her.
"Everything that happens is because many people work together, it is not because of one individual."
Though incredibly media shy when it comes to discussing herself, ask Adi about Women in Business Development Inc and she opens up with a rush of ideas for the organisation she co-founded in 1991.
It is understandable when most of Adi's waking hours are spent working for the organisation – a task that has been drawn out over the past few years because mobile phones and the internet now stretch the working day into the night.
A day at the office may see the executive director attend back-to-back meetings, travel regionally to consult on country projects, preparing and finalizing numerous reports, conference calling to Hawai'i, London or New Zealand and then in the afternoon, a compulsory brisk stroll on the seawall or Tuanaimato to balance out life's mental stresses.
*****
Women in Business has had many successes over the past 20 years culminating in record exports this year of its virgin coconut oil to the United Kingdom and United States, exports of dried bananas to New Zealand, and preparation of markets for coffee, cocoa and vanilla. It also has now a record number of finemat weavers on its weekly sponsor programme.
The organisation turned 21 this year, and Adi's steady hand has steered the organisation through its transformations, which included shifting from assisting urban women into business to creating and sustaining rural economies for struggling families in Samoa.
In 2008, Adi received a New Zealand Prime Minister's Fellowship award, and then two years later was named Savali newspaper's "Person of the Year".
But it has been 2012 that has has catapulted Adi onto the international stage.
While Samoa was celebrating its 50th Independence Anniversary in Apia, Adi was quietly making her way to Washington DC to receive a global award for economic empowerment. The award was presented by Vital Voices, a Hilary Clinton foundation. To accompany the award presentation, video footage showed Adi working with a virgin coconut oil processor in Savai'i as well as meeting with trade partner The Body Shop in the United Kingdom.
Vital Voices provided the first Clinton connection for the year, for it seems Adi has captured the attention of one of America's most powerful families.
Two months after receiving her global award, Adi sat alongside US Secretary of State Clinton on a panel for the Gender Equality Dialogue. The dialogue was part of the Pacific Island Leaders Forum in the Cooks Islands. Later, Clinton, Adi and other Pacific leaders signed a joint statement in the Cook Islands, pledging to address issues including violence against women, limited economic opportunities and the representation of women in Pacific parliaments.
Then in October, it was husband Bill's turn. The Clinton Global Initiative (CGI) was established in 2005 by President Clinton, bringing together global leaders, including heads of state, Nobel Prize laureates and hundreds of philanthropists, company and organisation heads to forge solutions to the world's most pressing challenges.
The CGI used Adi and Women in Business as a prime example of women-led enterprises in developing countries in one of its breakout sessions.
At the time, Adi said the organisation was "humbled and honoured" the CGI showcased Women in Business as a way to spur discussion and urge CGI members to address some of the critical barriers that women face around the world.
Then in December, the week after Cyclone Evan raged across Samoa, Adi was expected as a guest at the Clinton Presidential Centre in Little Rock, Arkansas. She was to speak and participate at Club Madrid – a global conference of former leaders from around the world looking at global solutions to world development. But due to pressing needs at home, Adi stayed to assist with the Cyclone Evan recovery.
Adi says these international events are opportunities not only to tell the Women in Business story and to gain support for the organisation's work in Samoa and the region, but to also talk about the Pacific and get people to understand the issues.
"To be honest, I am amazed and grateful because I know that so many people out there do incredible work in very trying circumstances.
"I know that this year we have received a lot of focus because of the Vital Voices but they happened because of the work we have done and the way that we have done it."
That "way" that Adi refers to is the Women in Business way: "strengthening grassroots economies in ways that honour indigenous customs, use traditional and modern technology, and promote trade" according to the organisation website.
And that "way" has gone regional. Adi has been working with other Pacific Island countries to boost similar organisations and set up a co-operative network.
Women in Business has long recognised the vulnerability of Samoa, or any island nation, to natural disasters when it comes to food and trade security.
"I have always thought export success for the Pacific will come through co-operation. We are too small scale, too vulnerable to do all this alone but together we could be a force.
"This is also important as our markets grow and we need to supply more. We have lost so many markets in the past because we haven't been able to keep up with demand, and sharing with other island countries seems to be the way to go."
To mitigate the loss of export markets, as seen when Samoa was hit with taro blight, Adi and Women in Business has been sharing not just its model but its export contract with The Body Shop.
"Cyclone Evan and its effects is one of the reasons why we knew we had to share this contract, which The Body Shop graciously consented to.
"We have been working with the Tongan National Youth Congress to set up organic certification, which takes three years to process, and virgin coconut oil production sites. 2013 will be their first year online and considering the state of some of our coconut farms, the timing couldn't be better."

*****
As the daughter of a plantation owner from the northern tip of Fiji, Adi was born Adi Maimalaga Chute and grew up on the island of Vanua Levu. After finishing school, she trained and worked as a radiographer in Fiji. It was there she met and married Atoa Tupuola Fanene Simi Tafuna'i and they later moved to Samoa to make a life for themselves.
Her passion for health continues through her work and advocacy for healthy living through good food and exercise.
At work, that translates into certified organic agriculture.
"I firmly believe in organics, in growing and eating good food that benefits the environment, the farmer and the consumer. It is simple really – do we want to eat fertilisers, steroids and pesticides? Our Pacific ancestors, even many of our grandparents never used chemicals but were able to grow abundant crops that were healthy for their bodies.
"We are involved with the Pacific Organic and Ethical Trade Community, and it is showing real organic leadership in the Pacific. We have the Pacific Organic Standard, which was only the third regional organic standard produced worldwide."
The International Organic Accreditation Service recognise the Pacific standard to be equal to the requirements of the EU regulations. The standard is also unique in that is has climate change factored in.
Adi says the organic community is also about sharing. "The organic group in French Polynesia has already offered to send us open pollinated seeds. Our smallness and our isolation from markets means we really have to find ways to work together to stay in the global market place as a player and not just talking about it."
*****
When Women in Business began, the organisation focused on helping urban women into business. That focus shifted with the Cyclones Val and Ofa and the taro blight of the 1990s to vulnerable families in rural areas. That shift changed where the organisation put its energy and resources, but it is still dedicated to helping women.
Adi says the approach Women in Business take regarding economic empowerment they empower the husband and wife together so they are working within Fa'aSamoa rather than disrupting it.
"To get the best results, we work with the husband and wife even if she is the main income earner. There has to be a productive role for the husband to practically support her activity so there is balance within the family. For our weavers, many of the husbands are involved in the process of harvesting and drying laufala, and many of our siapo makers are husband and wife teams in the same way."
One story that is often recounted of how Adi wove an ie sae – a Samoan fine mat – to prove to fine mat weaver Vilelava Vaepae that she was serious about reviving fine mat weaving in Samoa. Then later Adi helped develop a sponsorship scheme that saw weavers paid a weekly wage for their work.
In Samoa, carvers and especially tatau artists are paid handsomely yet fine mat weavers who weave Samoa's treasure above treasures were not being paid for their skill and time. The Women in Business scheme rejuvenated a dying art, revalued fine mat weaving as a master skill and helped tip the scales of inequality when it comes to men's and women's work.
Adi says of all her achievements with Women in Business, the revival of fine mats is one that is the proudest to be involved in.
Meanwhile, 2013 is beckoning and after a year of international attention, regional liaison and national milestones, you can be sure that life will be as busy next year for Adi Maimalaga Tafuna'i as it was this year.
Posted: Tue 29 Jan 2013