Samoa's farmers will need support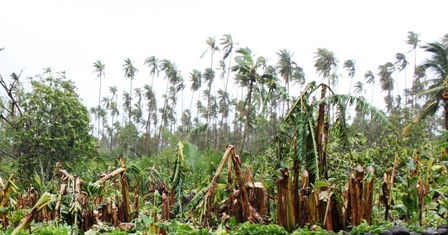 Samoa's farmers took a severe hit from Cyclone Evan with banana plantations flattened, breadfruit and coconut trees felled, and ta'amu crops decimated.
Women in Business executive director Adimaimalaga Tafuna'i says the organisation, which has more than 700 farmers registered in its organics programme, is assessing how badly farmers have been affected.
"Natural disasters like these test our resources and our resilience," says Tafuna'i. "But Samoan farmers are tough and, while the losses are heart-breaking, I know that they will be out there again mending what needs repairing, clearing debris and looking at what crop to plant next."
Women in Business staff spent Monday cleaning its two food production sites at Sinamoga and Nu'u. "We had some fallen trees and damage to fences, also our ripe bananas that were due to be dried were spoiled so they have been added to our compost operation," says Tafuna'i.
"At the office, we are starting to see farmers come in to collect their pays that they missed on Friday.
"As far as we can tell, they seem to be getting on to the next step of cleaning up what Cyclone Evan destroyed. We help those we can and have also been liaising with Red Cross to make sure special cases get the assistance they need."
She adds that the Women in Business is due to send another container of virgin coconut oil to The Body Shop this week and hopefully will still be able to make that order.
The organisation was also trying to get hold of an electricity generator to finish off its dried banana order for All Good Organics in New Zealand.
However, the weekly organic fruit and vegetable basket service will be cancelled for this Friday.
Yesterday, after spending several days assessing the damage across the country, the Samoan Government declared a State of Emergency for the next 30 days.
The New Zealand Government has provided a P3 Orion to undertake aerial surveillance and environmental health assessment expertise, as well as NZD50,000 to assist with the on-the-ground response.
An initial assessment suggested there had been damage to outlying buildings, critical infrastructure and power lines, with flooding, many fallen trees and power outages.
Posted: Sat 15 Dec 2012