Steffi needs big time sponsors for pro circuit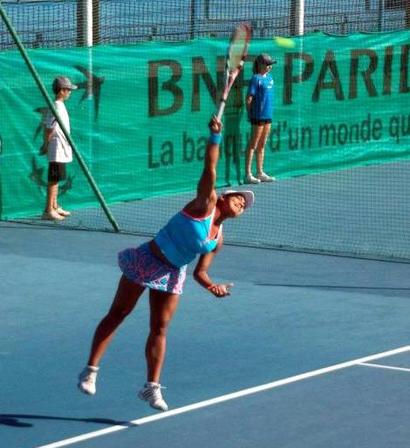 Samoa's top tennis player Steffi Carruthers needs some big-time support if she is to turn professional.
Carruthers, who turned 19 this year, says now that she out of the junior section she has to pay for her own expenses for coaching, accommodation, travel and tournaments, and she does not have the means.
"Playing on the professional circuit is something I've always wanted," says Carruthers. "It was always in me but when you come from the Pacific, you don't usually see people playing at that level. No-one even encourages you to turn professional."
The young tennis player has been invited to train and play the Women's Pro Circuit Schedule (America and South America) with the Casely Tennis Academy in Miami Florida, where the cost for a year for just training and accommodation is USD4000 a month.
She has also been invited back to Melbourne Australia, where she has been based for several years, but again the cost of training and attending tournaments is beyond the family's means.
"Being in Melbourne, I see what is possible: playing on a circuit, training with elite squads, mingling with top players – I can be one of them too.
"I've also gained confidence and independence, and learned how to be courageous when I am by myself."
Mother Yvonne Carruthers, who is very active in Samoa coaching junior tennis, says getting sponsor support for Steffi is an investment for tennis in Samoa and for all the young up-and-coming players.
Tennis Samoa president June Langton adds that this is a rare opportunity for Tennis Samoa to assist a player who is aspiring to the elite level of the sport.
"Steffi's consistency, hard work and perseverance make her outstanding."
Since 2009, Women in Business Development Inc has helping Steffi Carruthers through voluntary staff contributions that are deducted weekly from their salaries.
Women in Business director Adimaimalaga Tafuna'i says the amounts each person gave were small but they all added up. To date the organisation has given more than $15,500.
"We were happy to contribute to someone like Steffi who is a role model, and especially when you see how she performs at her tournaments."
Tafuna'i says that it is now time for a large company to come in and help. She adds that another possibility is a group of companies, organisations or Government ministries may band together and become co-sponsors.
Carruthers also wanted to acknowledge past grants from Samoa Association of Sport and National Olympic Committee and Ministry of Education, Sports and Culture, which has helped pay for airfares this year to Melbourne. In the past the former SamoaTel had also assisted.
The young player has dominated tennis in Oceania in recent years. She is Samoa's No.1 (junior and senior) player and the region's No.2 (junior).
In September Carruthers was part of Samoa's Gold Medal Team at 2012 – September Oceania Championships. She also won a Silver Medal in the Women's singles.
She grabbed national headlines several years ago when she won three gold medals in the 16yrs and 18yrs division, at the Poverty Bay East Coast (PBEC) Junior Tennis Open in New Zealand.
Carruthers' top ranking on the International Tennis Federation junior circuit was 199. In Australia, she is ranked at 170 for women's tennis. But as a senior, she has to start again and accumulate points to contribute to her ranking through tournament play.
Her new goals include playing in the Women's Tennis Association (WTA), representing Samoa in the World Women's Tour and to win gold at the 2015 South Pacific Games in Papua New Guinea.
If sponsors are interested, they can ring Yvonne Carruthers on 7505055 or Steffi Carruthers on 725528.
Posted: Tue 09 Oct 2012