* Chef Robert Oliver sails Samoan va'atele Gaualofa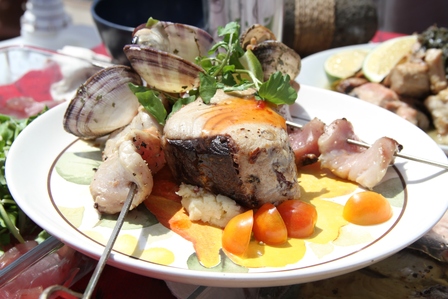 ABOVE: Asiasi two ways with tugane - made by Gaualofa chef Lole Patolo
Chef and author Robert Oliver and his team booked a day sail on Friday to film Gaualofa chef Lolesio Patolo cook and present a meal.
Oliver, along with co-author Tracy Berno, won best cookbook in the world at the Gourmand World Cookbook Awards in 2010 for Me'a Kai: The Food and Flavours of the South Pacific.
"When I was told Gaualofa had returned and had a wonderful chef on board, I couldn't resist the opportunity to meet him and sail on the canoe."
He was accompanied by photographer Shiri Ram and film crew Zoomslide booked a day sail on Friday to film Gaualofa chef Lolesio Patolo cook and present a meal.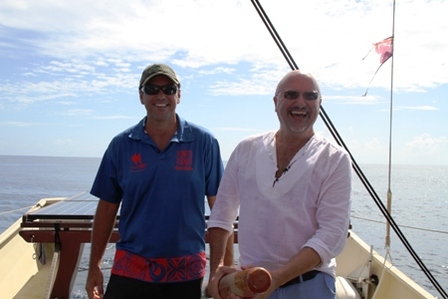 Gaualofa captain Nick Henry said it was important to seize opportunities that promote the canoe and its crew.
"Working with Robert Oliver is about investing in the future of Gaualofa when you think about the exposure it will gain."
The crew and the Samoan Voyaging Society also last week met with Head of State and society patron Tupua Tamasese and Prime Minister Tuilaepa Sailele Malielegaoi to discuss future plans for Gaualofa.
The Prime Minister said he was keen to support the va'atele once a formal plan had been presented by the voyaging society.
At a crew function, the society also honoured its captain who is due to return to his home in the Cook Islands.
Henry was presented with a to'oto'o and fue as symbols of leadership by society member Leilua Ame Tanielu.
ENDS
For hi-res pix or more information, please contact
Faumuina Tafuna'i
Media Officer
Women in Business Development Inc
Ph: 21959
Cell: 7294854
Meanwhile Gaualofa chef Patolo served platters of asiasi cooked various ways, impressing Oliver with his creativity and ability to produce sumptuous food in the small galley kitchen.
"On the va'a I make use of whatever is at hand but I still want to produce beautiful, healthy food for the crew."
Patolo took on his voyage some home "essentials" including Samoan's Own Chilli Sauce, koko, and virgin coconut oil.
Oliver said those ingredients were exactly the products he was trying to promote through www.truepacific.com.
He added that sailing on Gaualofa was a special experience for him and his team and thanked Women in Business for organising it.
Oliver is currently working with Samoa Tourism Authority, Samoa Hotel Association and Women in Business on a multi-media project promoting Samoan food and organics.
Production company Zoomslide is gathering footage of Oliver's food travels, which can be seen at www.realpasifik.com.
ENDS
For more information, please contact
Faumuina Tafuna'i
Media Officer
Women in Business Development Inc
Ph: 21959
Cell: 7294854
Posted: Tue 11 Sep 2012