* Standing proud on Samoan soil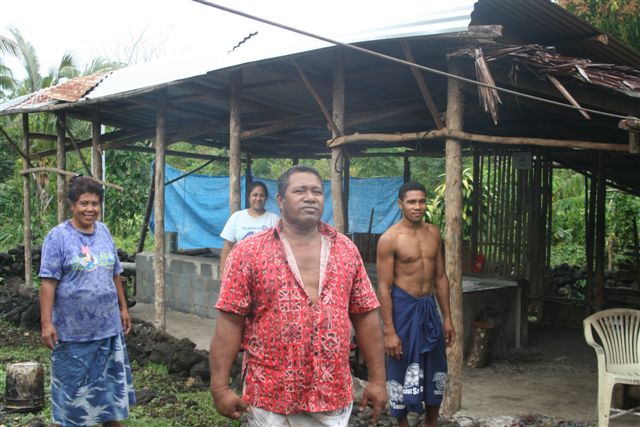 No-one should starve in Samoa. That is the truth of it. The soil is rich and fertile and most land is still in customary ownership.
But if you need to pay the power or water bill or send your kids to school, then you need a cash income. And that is a different story altogether.
After decades of sending Samoa's brightest and strongest to work overseas and funnel money back to the islands, Samoan farmers are showing there is a way to stay on the land and make a living.
When Kelemete Luagalausefo of Sagone first heard about the Women in Business Development Inc (WIBDI) coconut oil project he wasn't terribly keen, but the pulenu'u approached him and asked him to try it out because of Kelemete's sizable 80-acre farm.
So back in January this year, Kelemete, Selesa and their two sons, Molieli and Eli, learned how to hand-press virgin coconut oil.
The family was set up a coconut drier, two grating machines, scales and a metal coconut oil press. They were also taught how to grade coconuts to get the best quality possible.
The process has virtually no waste because the coconut shells and husks can be used to fuel the drier and the leftover pressed coconut gratings are fed to the pigs.
This year their farm, which grows coconuts, taro, cocoa, ta'amu, and yams, was also organically certified by the National Association for Sustainable Agriculture, Australia.
Now the family is providing oil weekly to WIBDI, which in turn exports the oil to international cosmetic retailer The Body Shop, under its fair trade programme.
Kelemete says at first learning the process was difficult because it was new but now their bodies are used to the work.
The family has gone from producing one to one-and-a-half buckets to 10 or 11 buckets a week.
"We thank God. We are very pleased with the business because it has helped us fulfill our obligations to the village, family and the church."
It has also helped pay for his youngest daughter to attend the National University of Samoa. The family now has their sights set on buying a family car.
"Now we do not have to ring family overseas for money. But if we had just sat around, we would have had no weekly income.
"You have to move to earn a living. Nobody earns a living if they don't move."
Pointing to the long, steel coconut drier, Selesa adds that the business has become their "faletupe", their bank.
Prior to this venture, Kelemete had set up several businesses to make money for his family. But from making masi popo, banana chips and pork buns, each business folded within a year. The flour was too expensive and sometimes there was no-one to make the products.
One other business the family is still involved in is siapo. With plenty of o'a and lama trees to produce the paper and ink, siapo is both environmentally and economically sustainable.
"We still make siapo but only by order," says Kelemete.
He adds that the coconut oil business is one the family will not be giving up on. "This is for life."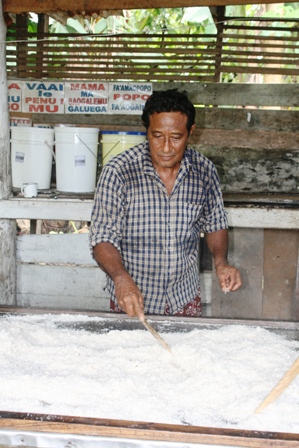 Further up the road in Taga, Faiumu and Faiesea Faimafili are busy drying coconut for pressing. Tossing the grated coconut with flat wooden rods to keep it from burning, the couple is surrounded by family members who are part of their work force.
Moments later, a truck pulls up laden with fresh coconuts from the plantation.
The family joined Women in Business coconut oil producers in 2003 and since then life has changed for the better.
They now can keep up with family obligations, have built a modern house with a water tank, bought a truck and, most importantly, are financially independent.
Faiumu says he also no longer relies on remittances from overseas family, partly because he recognizes that living overseas can be expensive for his relations.
He still sells produce from his plantation such as taro, cocoa, coffee, ta'amu, bananas and more recently vanilla. But he says reaping an income from these can take seven to eight months from the time it takes to plant, harvest and sell them.
"I would like to see more families involved in farming. Some people don't want to do this work because it is hard and they get dirt underneath their fingernails so they go and look for easy work and easy money."
During his time with WIBDI, Faiumu has been to many training sessions included business and financial literacy training.
He says sometimes people are scared to learn new things but they shouldn't be.
At all times, Faiumu says he has faith God will provide a pathway.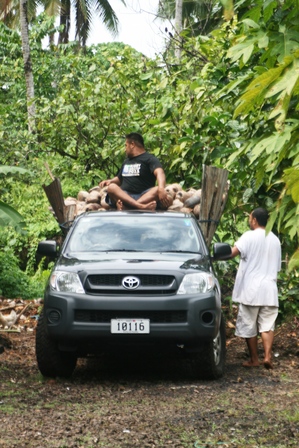 His message to other Samoan peoples is: "Don't rely on monies from overseas. Stay on the land, don't throw it away. The land can be developed by planting many different crops. And lastly, eat Samoan food."
Over in Fugalei, Upolu, WIBDI staff is calculating oil quantities for export and payments to farmers.
For more than two decades the Non-Government Organisation has being trying to find ways to sustain rural Samoans in the village.
Their efforts have seen fair trade and ethical contracts negotiated with United Kingdom and New Zealand markets.
The group takes a hands-on approach with their members so that they can meet their contracts, grow family-based businesses and protect their valuable organic status.
To do this, WIBDI have tailored their business model to meet the needs of Samoans.
Its microfinance model stipulates that only members who are drawing an income from one its businesses can make a loan.
Furthermore, the loan can only be up to 60% of its compulsory savings programme. WIBDI deposits five per cent of the farmers' payments into individual savings accounts. Another five per cent goes into a maintenance account to replace or repair business equipment.
The organisation started in 1991 trying to help urban women into business. However, after Cyclones Ofa and Val in the early 90s followed by a national taro blight that wiped out the country's main staple crop, WIBDI wanted to help rural Samoans.
WIBDI director Adimaimalaga Tafuna'i says in Samoa you need cash "and agriculture is a wonderful, abundant and sustainable way to make a living".
After hearing about a new technology for cold pressing coconut oil called Direct Micro Expelling, WIBDI contacted the technology's creator Dr Dan Etherington and attended training in Fiji with the United Nations Industrial Development Organisation.
By 1999, the organisation was exporting one tonne of coconut oil to Australia but at the same price as copra oil.
So WIBDI looked to organic certification to add value to their products and at the same time started educating the markets on the health benefits of cold-pressed extra virgin coconut oil.
Currently more than 700 Samoan families, working on 33,000 hectares of land, five processing companies and four entire villages are fully organically certified to international standards.
Its efforts were rewarded in 2008 when the The Body Shop needed virgin coconut oil for its products and came to the Pacific in search of assistance.
Over the last few years, WIDBI has exported almost 45 tonnes to The Body Shop.
But the burgeoning international demand has meant the cosmetic retailer requires more coconut than Samoan farmers can sometimes supply.
To this end, WIBDI has looked to share its markets with other Pacific countries.
"The reality is we are too small to service these contracts so we have been talking to other Pacific nations and the great thing is The Body Shop has agreed to other countries supply coconut oil using the same process," says Adimaimalaga.
Next year, when Tonga becomes organically certified they will start producing coconut oil.
Initial talks have also begun with other islands, such as Hawai'i, on how they can be involved.
Internationally, WIBDI's success and in particular the dedication of its director was recognised this year at the The Global Leadership Awards by Vital Voices.
Adimaimalaga received the award for economic empowerment.
She hopes the attention gained from the award will benefit the work of WIBDI in Samoa and the Pacific. She says ongoing support from donors such as the New Zealand Government, Oxfam New Zealand and the Canada Fund among others has helped sustain WIBDI but there is still much more the organisation could achieve with more funding.
Meanwhile back in Taga, Faiumu is cleaning up after a productive day making oil. He says one day he would like to visit The Body Shop and see what becomes of his oil.
Tafuna'i says anything is possible with faith and hard work.
Story by Faumuina Felolini Tafuna'i
Photos by Joline Lalime (freelance volunteer) photographer
PHOTOS are available at: http://www.flickr.com/photos/78791786@N02/sets/72157630976290912/
For more information, please contact:
Faumuina Felolini Tafuna'i
Media officer for Women in Business
+685 729 4854
Posted: Thu 09 Aug 2012