* Vanilla farmers ready for next step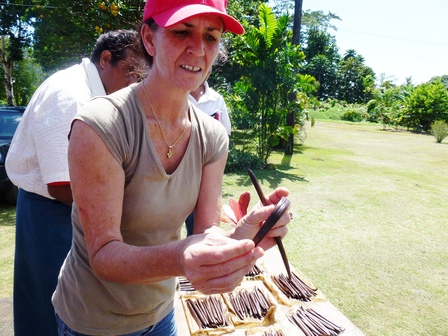 Samoan vanilla farmers gathered in Upolu today to learn more about hot water curing.
The Women in Business workshop was run by Therese Rasmussen at her small vanilla holding in Vaoala.
Rasmussen said it was an excellent chance to share her knowledge and learn from the other farmers.
The day started off with vanilla harvesting and followed through with the curing process. Most of the farmers were from Savai'i and were impressed at quality of vanilla on display.
Rasmussen already sells locally to supermarket retailers and restaurants under the label Saumalu. She is also looking to expand internationally and has interest from New Zealand.
Women in Business marketing programme manager Alberta Malielegaoi says the organisation is trying to find a market for Samoa's growing vanilla industry.
"Vanilla is a relatively new product to Samoa but is one that suits Samoa's climate and soils. We are trying to find overseas buyers to sustain our farmers."
For more information, please contact --
Faumuina Felolini Maria Tafuna'i
Media Officer
Women in Business
729 4854
For more pics check out us on www.facebook.com/WIBDI
Posted: Fri 03 Aug 2012