* Triple celebration for Women in Business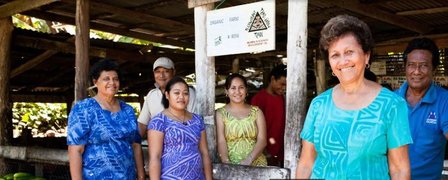 From humble beginnings in 1991, the Women in Business Foundation - set up to advance the economic and business status of the women of Samoa – celebrated sweet success recently.
At Scalini's Restaurant, the organisation, now renamed Women in Business Development Samoa (WIBD), had reasons for a triple celebration. There was their 21 years of service and growth in Samoa; the launch of a publication about the revival of fine mats by Fuimaono Rosalia Me; and thirdly the "Vital Global Award for Economic Empowerment."
Director Adimaimalaga Tafuna'i highlighted the importance of an award that was presented at the Kennedy Centre in Washington D.C. "It is really about a small organisation, punching above its weight. It is about Samoa, and it's about the Pacific," she said.
The award was presented by an organization called 'Vital Voices' which Mrs Tafuna'i said is a non-governmental organisation which grew out of a Hillary Clinton-led initiative when President Clinton was in the White House.
Speaking in front of 2,500 people at the award ceremony moved her out of her comfort zone, but Mrs Tafuna'i took strength from the fact that it was all about getting their voice heard in a forum that looks around the world every year, only sees the issues of the larger countries and the larger populations that attract media interest.
"This award belongs to everyone who has had anything to do with Women in Business over the past 21 years. And tonight, we would like to celebrate our achievements and to pay a special tribute to a person, who has probably been our biggest supporter since the very beginning, our Prime Minister," Mrs Tafuna'i said.
She thanked Prime Minister Tuilaepa Sa'ilele Malielegaoi for his continuous support and for encouraging them to develop more for the benefit of all mothers of Samoa particularly those in the rural areas.
The celebration of the book called the "Revival of Fine Mats" was written by one of the Women in Business representatives, Fuimaono Rosalia Me. "This book connects to the programme they started in 1996," said Board member, Sheree Stehlin, The programme was to teach weavers to weave finely and it grew into an income-generating project where they've had sponsors for the fine mats and extended it to villages all over Samoa.
"Around this time, many Tongan people were travelling to Samoa to buy our older ie sae and because families didn't have any cash, they were selling the ie sae at prices that were so low, they undermined the real value of this wonderful Samoan artifact," Mrs Stehlin said. She said with the revival, the ie sae is now being woven in many villages in Samoa, and Government has introduced policies around its weaving and its use.
'We needed to go further and ensure that future generations knew about its use, its value to the Samoan culture and to ensure that we don't lose this beautiful part of Samoa." This book "Fa'avagagaina Faiva Alofi Lima o Tama'ita'i Samoa" said the author Fuimaono, was made for all women or tama'ita'i Samoa to know how to treasure and push the weaving of ie sae. A unique ie sae, prepared by the Women in Business in 2002, was gifted to the Prime Minister.
Tuilaepa congratulated the Women in Business for this milestone they have reached. "I also would like to thank you for the gift of appreciation that you've presented today and I assure you that I will take it to Cabinet and show it to them so that a directive will be made to push the revival of weaving the 'ie sae'," he said.
"I am very proud to see this small organization growing which is a sign of working together and fighting for the benefits of all mothers and also all families in Samoa," Tuilaepa said.
SOURCE: www.samoaobserver.ws
Posted: Thu 02 Aug 2012