* Organic farmers clean up at Savaii Agriculture Show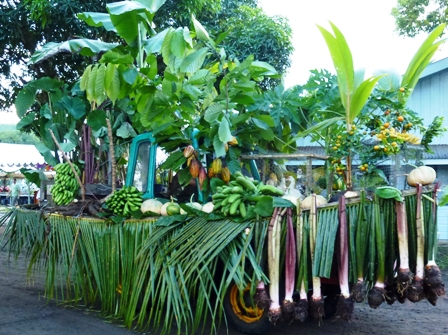 Women in Business Organic Farmers enjoyed great success at the Savaii Agricultural Show last week with a haul of 33 major prizes and a range of consolation prizes.
Thirteen of the 14 farmers won prizes at the fiercely contested Agricultural Show.
Women in Business Programme Manager Alberta Malielegaoi said the organisation would like to congratulate all the farmers for their hard work.
"The array of prizes reflects the quality of organic produce in Savaii. We are pleased that the Ministry of Agriculture and Fisheries recognises that quality. We would also like to thank all the judges and organisers for their time and energy put into this event."
A special prize was given to Isaako Aipovi, an organic farmer from Satupaitea for his tractor decorated by crops and vegetables. Isaako took it on himself to decorate his truck and surprised everyone when he arrived. It caused quite a stir with the organisers recognising this with the inclusion of a special prize for in a new category.
Women in Business presented a stall showcasing our export products alongside a stall showcasing the high quality fresh produce of our organic farmers.
Also present were some Fine Mat weavers displaying their crafts and demonstrating their artwork of weaving finemats. Their work was well received by Samoans and foreigners alike.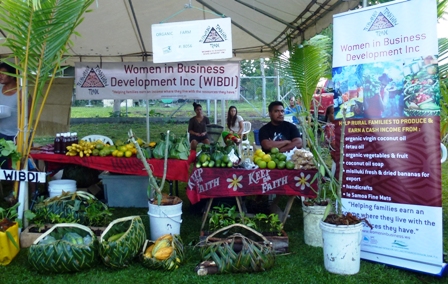 All Women in Business Organic Farmers prize winners are listed below:
Best Coffee
First Prize – Petelo Ah Sue – Aopo
Second Prize – Poasa Tagaloa – Taga
Third Prize – Faiumu Faimafili – Taga
Best Vanilla
First Prize – Faiumu Faimafili - Taga
Second Prize – Poasa Tagaloa – Taga
Third Prize – Tanielu Masoe – Samalaeula
Best Tilapia Fishery
First Prize – Hans Schwalger – Patamea
Best Organic Farm
First Prize – Ioane Lofai – Sataua
Second Prize – Leota Leaupepe – Sili
Third Prize – Isaako Aipovi – Satupaitea
Best Mixed Plantation
Second Prize - Leota Leaupepe – Sili
Best Cocoa
First Prize – Tanielu Masoe - Samalaeula
Best Taro
First Prize – Leota Leaupepe – Sili
/>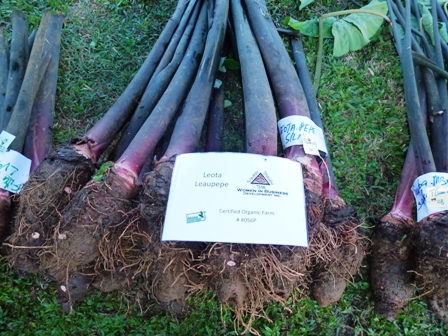 Best Taro – Samoa (5-1)
Third Prize - Leota Leaupepe – Sili
Best Fruit and Vegetable Basket
First Prize – Tagaloa Poasa – Taga
Second Prize - Faiumu Faimafili - Taga
Third Prize - Faiumu Faimafili – Taga
Best Fai palagi
Second Prize – Umamoa Laauoleola - Aopo
Best Taamu lelei
Second Prize – Tanielu Nuuletau - Paia
Best Taamu Toga
First Prize - Tanielu Nuuletau – Paia
Best Duck
Third Prize – Leota Leaupepe – Sili
Best Drake
Second Prize - Leota Leaupepe – Sili
Third Prize – Isaako Aipovi – Satupaitea
Best Sheep
First Prize – Wong Ki – Salelogoga
Best Sheep (Ewe)
Third Prize - Leota Leaupepe – Sili
Best Ram
First Prize – Wong Ki - Salelogoga
Best Bull
First Prize – Leota Leaupepe – Sili
Second Prize - Isaako Aipovi – Satupaitea
Best Cattle Farm – 50 and up
First Prize - Isaako Aipovi – Satupaitea
Best Pig Farm (Sow)- 11-20
Second Prize - Leota Leaupepe – Sili
Forth Prize - Isaako Aipovi – Satupaitea
Best Chicken Farm – 21-50
Third Prize - Leota Leaupepe – Sili
Consolation Prize Winners
Umamoa Laauoleola – Aopo
Talitalimalie Tuna – Aopo
Petelo Ah Sue – Aopo
Muliaga Vainiu – Aopo
Faiumu Faimafili – Taga
Tagaloa Poasa – Taga
Tanielu Nuuletau – Paia
Lafaele Sula – Sataua
Afaese Sua – Falealupo
Wong Ki – Salelologa
Tanielu Masoe – Samalaeulu
Hans Schwalger – Patamea
Leota Leaupepe – Sili
Isaako Aipovi – Satupaitea
Posted: Tue 15 May 2012