* British High Commissioner gives Diamond Jubilee grant to WIBDI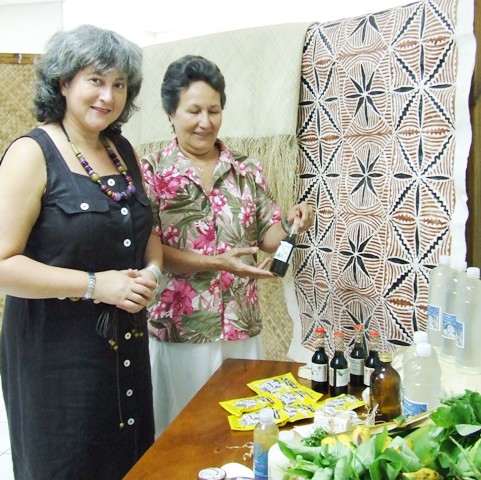 Above: British High Commissioner Vicki Treadall and WIBDI president Ruta Sinclair looking at some of the WIBDI products on offer.
British High Commissioner Vicki Treadall presented a Diamond Jubilee Grant to Women in Business at the organisation's offices in Fugalei, Samoa on Friday.
The BP1500 (WST4000) donation is part of Queen Elizabeth's Diamond Jubilee celebrations of 60 years as England's ruling monarch.
WIBDI president Ruta Sinclair accepted the grant. She thanked the High Commissioner, saying it was a honour to be selected as a recipient and the money would go into the programmes the organisation currently runs.
"Women in Business were an obvious choice for the grant because of the work they do to empower women and families," says Treadall.
On Saturday, the High Commissioner will travel to Savai'i to visit a coconut farm to see virgin coconut oil produced "from nut to the oil".
She says WIBDI's work with virgin coconut oil and The Body Shop, which is a global company that started in the United Kingdom, is a great example of what can happen when small resources are combined together to create enough supply for a global demand.
Treadall, who is based in Wellington, New Zealand, says she has three themes to her week-long visit in Samoa.
The first theme is to re-engage with Samoa because it was almost a year since her last visit but she intended to visit Samoa at least twice a year.
"The second theme is women - being the first British High Commissioner to Samoa and also because I met some wonderful women from Samoa at a meeting in Vanuatu about a month ago, and one of them was Adi (Tafuna'i) from WIDBDI."
The third theme was to strengthen political ties. Treadall has meetings with Samoa Prime Minister Tuilaepa Sailele Maliegaoi, and the Ministry of Women's Affairs and the Ministry of Natural Resource and Environment.
"I will be talking to them about their priorities and how Britain can help. We see Samoa as a key ally at the UN. We have similar ambitions and values."
Vicki Treadall is the British High Commissioner to New Zealand and Samoa, and the Governor to Pitcairn Island.
Posted: Fri 16 Mar 2012