awakening aspirations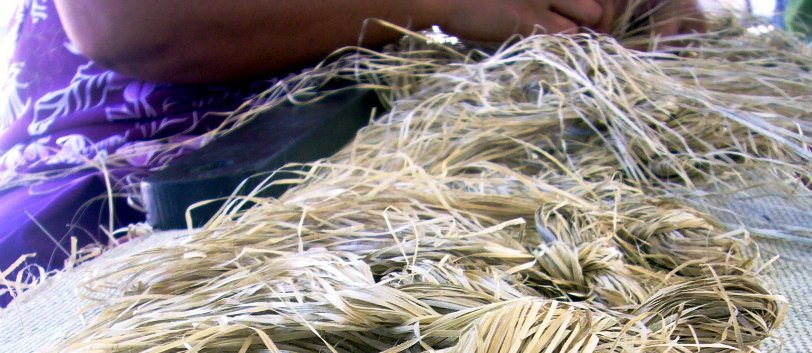 When people's potential is awakened, aspirations come to them. Women in Business Development seeks to build a solid economic foundation for rural Samoans by creating opportunities that use their local resources. In doing this, families begin to realise their potential and not only participate in our programmes, but start to form their own local enterprises.
---
Working with Ana Epati
Every Friday, the Women in Business Development office is a bustling fruit and vegetable market as organic farmers bring in their baskets of produce that have been pre-ordered earlier in the week. It's a good place to be as the delicious smell of oranges, basil and spring onions mingle in the air.
Ana Epati is one of those farmers who make the weekly trip from the outer villages. Through the organic baskets programme, Ana receives regular income that complements her husband, Epati Pofitu's earnings as they strive to provide for their seven children.
"Since I started on the organic basket programme, I now have a place to make money easily. I just bring in the fruits, veges and herbs that they ask me and I know I will be earning money from them," says Ana who comes from Faleasiu.
Ana says the organic field workers also taught her how to compost and use the compost on her soil instead of chemicals. She has seen such positive results that she has become a real advocate for organic farming.
"Don't you ever use the chemicals on your soil. It does not help build the health of the land and the people. There is so much you can do naturally," says Ana. "Also I have learned so much about the soil and health of my vegetables and fruit and how that helps the health of the plants and of the people eating these fruits and vegetables."
Another aspect of her farming that has changed is the diverse range of crops Ana has in her plantation. "At first I did not know about beans or basil and now they are my favourite to grow."
---
Empowering the Luagalau family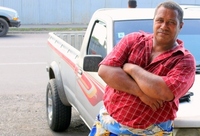 For most people it's four wheels and a source of transport, but for Savaii farmer Lautafi Kelemete Luagalau it's a dream come true.
Eleven months after he started processing virgin organic coconut oil in his home village of Sagone, which is fully organically certified, Lautafi has managed to buy a truck with savings and a bank loan.
"Now I can go and collect my own coconuts from my plantation as well as from the other organic farmers around me," says Lautafi. "Thank you for all the help I have received to get this truck."
Then his thoughts turned to his family who were waiting to hear the good news. "I'm going to call my wife and tell her we have got a truck."
Lautafi paid for his truck with personal savings held at Women in Business and a bank loan from Samoa Commercial bank that was guaranteed by the Small Business Enterprise Centre (SBEC).
Women in Business executive director Adimaimalaga Tafuna'i said Lautafi was a farmer dedicated to providing a sustainable livelihood for his family.
"We knew that having a truck was essential to Lautafi's success, which is why we facilitated the loan process with SBEC.
"We support people who really want to help themselves - determined people who have a vision for their families. We have learned over years that the key to successful ventures in Samoa is working with the family unit."
From this small village Sagone, Lautafi is making high quality virgin coconut oil that ends up in cosmetic stores around the world.
Lautafi bought his truck from Francis Uhrle at Uhrle Auto Repairs in Lotopa.
Since becoming one of Women in Business Development's organic virgin coconut oil processors, the Luagalau family have found a new way to earn an income from home, work alongside each other, send a daughter to university and become healthier in the process.
In 2011, Luagalau Lautafi Kelemete, wife Selesa and their two sons, Molieli and Eli, learned how to hand-press virgin coconut oil. Their home-based business has become so successful they call it the "bank". "We thank God," says Luagalau. "We are very pleased with the business because it has helped us fulfill our obligations to the village, family and the church."
Selesa says the business has helped pay for their youngest daughter to attend the National University of Samoa, something they are very proud of. "Now we do not have to ring family overseas for money," says Selesa. "But if we had just sat around, we would have had no weekly income.
Luagalau says at first learning to press coconut oil was physically tiring but now their bodies are used to the work. One of the bonuses for Luagalau is he has lost 10 kilograms in the process. "You have to move to earn a living. Nobody earns a living if they don't move."
The family was set up a coconut drier, two grating machines, scales and a metal coconut oil press. The process has virtually no waste because the coconut shells and husks can be used to fuel the drier and the leftover pressed coconut gratings are fed to the pigs.
Last year their farm was organically certified by the National Association for Sustainable Agriculture, Australia. The family provides oil weekly to Women in Business Development, which in turn exports the oil to international cosmetic retailer The Body Shop, under its Community Trade programme.
---
Honouring tradition with Apiseka Falefa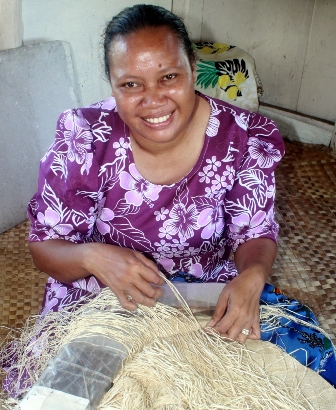 Apiseka Falefa is 36 years old and resides with her young family in the village Tufatafoe, on the island of Savai'i in Samoa.
She is regarded as one of Samoa's best weavers.

Apiseka says: "Some people say weaving a fine mat is too hard but I keep working at it. They just give up too easily. It is a treasure of Samoa."
Since learning the art of Ie Sae weaving in 1997 through a Women in Business Development Inc workshop to revitalize the dying art, she has woven 12 Ie Sae.
Recently, one of Apiseka's fine mats was bought by the Senri Foundation in Japan, where it will go on display at the National Museum of Ethnology in Osaka.
In national annual competitions that started in 2004, Apiseka has won the top prize five times. In 2003 she was awarded a brand new fridge as Women in Business' top weaver. The process of bathing her mat was filmed by NZ's TV3 in Nov, 2007.